Be prepared for trouble on the road with a roadside emergency kit and help keep your family safe!
It sounds like the beginning of a scary movie. You and your family are driving down a long dirt road in the middle of the countryside when suddenly something goes wrong. The car rumbles, rattles then completely shuts down. You roll to the side of the road and even before you come to a complete stop you're whipping out your cell phone to call roadside assistance. No luck. The screen reads "no service" without even a flicker for a signal. The closest town is several miles back and you don't expect to reach civilization again for several miles more. The temperature outside is not ideal, either.
Are you prepared to keep your family safe until help arrives?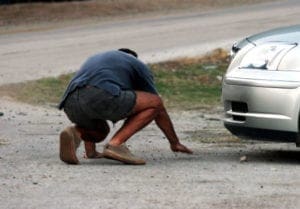 Preparing a Basic Roadside Emergency Kit
If possible, keep a pre-paid satellite phone in your glove box for just such an emergency. It is possible to get a pre-paid plan from most of the companies that cover the continental United States. Even if you have a phone, however, that doesn't mean that help will arrive soon or even in the next couple of hours. If you're stuck in a snowstorm, it could be even longer.
Make sure you're ready for the worst by keeping at least a basic roadside emergency kit in your car at all times.   There are several items you should consider as part of your roadside emergency kit.
Roadside Emergency Kit Checklist
Jumper cables
A gallon of water
Three days' supply of water for the family
Waterproof poncho
heavy duty work gloves
reflective safety vest
fuses
strong whistle & tie
roadside flares or warning light
12 hour light sticks
a couple quarts of engine oil
antifreeze
A complete first aid kit (23 piece or more)
A heavy duty multi-tool (with screwdrivers, knives, wire cutter, small saw, pliers, etc.)
adjustable wrench
tire pressure gauge
foam tire sealant
tire inflator
paper towels
duct tape
washer fluid in spray bottle
Three days' supply for family of storable/nonperishable food packets (such as energy bars)
flashlight (preferably weather-proof) and backup batteries
pen and paper
"Help" sign
fire extinguisher
coolant hose repair kit
Heavy-duty bag for carrying necessary supplies
While this may seem like a lot, many of these items can be packed tightly and stored in a heavy duty bag in your trunk. If you're planning on driving in the winter, make sure you add the following items in case of a sudden snow storm:
Winter Weather Roadside Kit Additions
thermal blanket or extra thick blanket
knit cap
gloves
extra sweaters/socks
windshield scrapper
hand warming packets
compact, foldable shovel
emergency survival guide/instruction card
bag of cat litter or play sand (for traction and/or extra weight in rear of vehicle)
When it comes to traveling with your family, you can never be too careful. By packing an emergency roadside kit before you leave, you are insuring that you and your family will be prepared in case of an unexpected incident on the road. And if you don't have time to collect all of these items on your own, pre-packed emergency roadside kits can also be found online. Just make sure it has the basic items listed above and enough food and water to last each member of your family for a minimum of three days.  Do you have a roadside emergency kit in your car?  Are you going to pack one now?  Would you suggest any additional items for a diyroadside emergency kit?
Guest post by John Egan who is managing editor of the website carinsurancequotes.com, which provides online car insurance news and services to consumers in all 50 states. John's goal is to deliver high-quality content and Auto Insurance knowledge to drivers so they can make informed decisions about choices that affect their pocketbooks and their driving experience.