This pumpkin cake recipe is similar to a carrot cake, and is wonderfully moist. The glaze on top makes it a perfect afternoon treat with a freshly steeped cup of tea. You could also skip the glaze and serve it as a yummy, healthier breakfast treat.  Roasted butternut or carrots may be substituted for the pumpkin.  This recipe is shared with us today from a cookbook by Mary Rolph Lamontagne called EATS: Enjoy All the Seconds.
Pumpkin Cake Recipe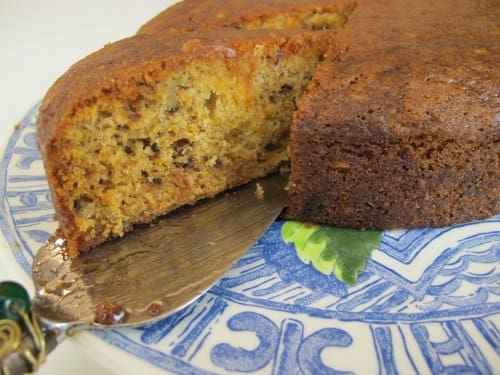 Serves 10–12
Pumpkin Cake Ingredients
⅓ cup vegetable oil
1 cup brown sugar
2 eggs
1½ cups roasted pumpkin, mashed
1 cup flour
1 tsp baking powder
1 tsp bicarbonate of soda
¼ tsp salt
½ cup dried cranberries or raisins and chopped pecans
Pumpkin Cake Directions:
Preheat the oven to 190°C (375°F). Grease a springform cake pan.
Beat the oil, sugar and eggs together in a mixing bowl. Add the mashed butternut to the mixture.
Sift the flour, baking powder, bicarbonate of soda and salt together. Add this to the squash mixture.
Fold in the dried cranberries and chopped nuts, being careful not to overmix. Pour the mixture into the prepared cake pan and bake in the centre of the oven for 40–50 minutes.
While it cooks, start the glaze.
Lemon Glaze Ingredients
⅓ cup lemon juice
⅓ cup icing sugar
¼ cup honey
 Lemon Glaze Directions
Place all the glaze ingredients in a small saucepan over low heat until the sugar has dissolved.
When the cake is baked, remove it from the oven. Using a wooden skewer, poke holes all over the top of the cake and pour the hot glaze over the holes. Leave the cake in the pan for at least 30 minutes.
Serve the pumpkin cake with some freshly whipped cinnamon cream. (To make cinnamon cream, add 1 teaspoon of sugar and 1/2 teaspoon ground cinnamon to every cup of whipping cream and whip into soft peaks.)
Thanks to Mary Rolph Lamontagne for sharing her recipe from EATS: Enjoy All the Seconds which is about loving good food and being smarter about the way one cooks. With beautiful full-color photographs of each recipe and step-by-step directions for foolproof, fresh cooking, this book is perfect for cooking enthusiasts of all skill levels. @savourandsave