The 4th of July is right around the corner and that means patriotism, fireworks and outdoor parties! This red velvet flag cake recipe is perfect for the occasion. Here is also a recipe for homemade cool whip and it is super easy to make. The cake has a great combination of freshness and sweetness!
Red Velvet Flag Cake Perfect For Showing Patriotism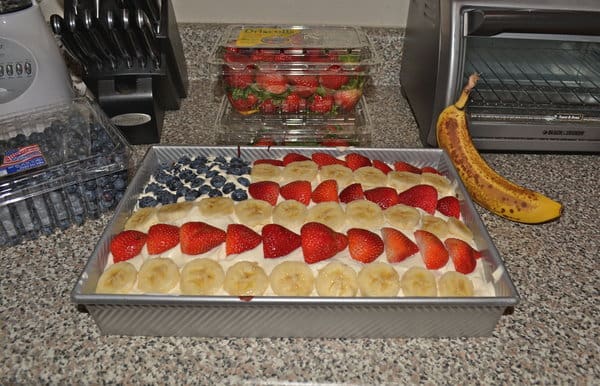 First make the homemade cool whip for the "icing".
Homemade Cool Whip Recipe: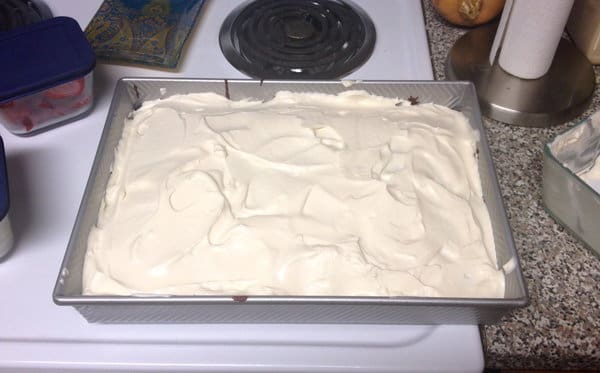 Ingredients:
2 cups heavy cream
2 teaspoons vanilla extract
2 tablespoons confectioner's sugar
Instructions:
Place 2 cups of heavy cream in a mixing bowl. Using a stationary or hand held mixer on a low setting whip up the heavy cream until it becomes a thicker consistency.
Then add your vanilla extract and confectioner's sugar and blend using the mixer.
Store in a glass container in fridge until ready to use.
Don't over blend! Think cool whip consistency not butter. 
Red Velvet Flag Cake Recipe:
Ingredients:
2 boxes of red velvet cake mix
Bananas (optional)
Strawberries
Blueberries
1 rectangular cake pan
Homemade whip cream
Red Velvet Flag Cake Recipe Instructions:
Follow the directions on the cake mix box for preparation and baking. You may need other ingredients such as eggs and oil.
Once it is done cooking let it cool. You can place it in the fridge as well.
After the red velvet cake has cooled down and your homemade cool whip has sat in the fridge or freezer it is time to decorate!
Spread the cool whip all over the surface of the cake evenly.
Using the blueberries create a square in the top left of the cake. These will be the stars.
Cut your strawberries in half and line the horizontally. Do the same with the bananas. These will be your stripes.
You are finished, now dig in!
Have you made a flag cake before? Would you try this red velvet flag cake recipe?  Do you think you will let the kids help you decorate?  I hope you enjoy the cake and Independence Day festivities!