Chicken stock is a regular staple in my kitchen. I throw chicken stock in with veggies, soups, and stews. Homemade chicken stock has a rich, silky flavor that adds a special touch to dishes. Making your own chicken stock is a simple way to make use of ingredients you already have on hand. I roast a brined chicken at least once a week. If you don't have time to roast a chicken, a rotisserie chicken from the grocery works just as well. When I have removed all the meat from the herbed whole chicken, I use the bones to make my stock with this simple slow cooker chicken stock recipe which I think you will love.
Slow Cooker Chicken Stock Recipe: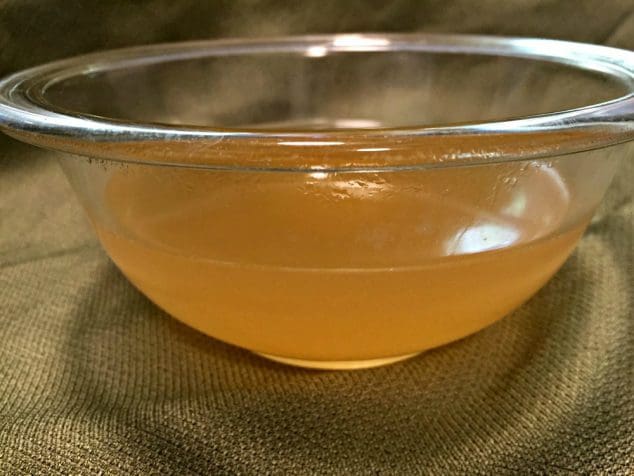 Prep Time 5 minutes
Cook Time 24 Hours
Makes 6 cups
Slow Cooker Chicken Stock Ingredients:
bones of one chicken (Picked clean.)
1 large onion quartered
2 celery stalks
2 carrots
3-4 peppercorns
1 Tbsp. salt (do not use salt if the chicken you are using was brined)
8 cups of water
Slow Cooker Chicken Stock Recipe Directions:
Place all the ingredients in a slow cooker. Cook on low for 24 hours.
When the stock is finished remove the solid ingredients and discard, leaving the just the liquid chicken stock. Strain the stock to remove any solid bits. The stock should be a clear, golden color.
You can store this slow cooker chicken stock in the fridge for up to three days. I like to freeze mine to save for later use. Fill an ice-cube tray with chicken stock and freeze. Once frozen you can use the chicken stock cubes as you need them. The stock can be kept for up to three months in the freezer.
I throw my homemade slow cooker chicken broth cubes into a pan when I sauté meat and veggies to deglaze the pan and add flavor. You can also use homemade chicken stock instead of milk in mashed potatoes for a healthy, delicious option.
The benefits of making your own chicken stock are you can save money, you know exactly what you are feeding your family, and it is just plain good! I hope you enjoy this slow cooker chicken broth recipe. Let me know you think!
Related Posts:
Chicken Florentine Casserole Recipe – restaurant flavor at home!
3 Foods to Always Keep in your Kitchen