This delicious breakfast recipe is gluten, dairy and sugar free and is shared with us today by The Low Histamine Chef. These sorghum blueberry breakfast tartlets make a tasty weekend breakfast treat. The tarlet dough tastes like graham crackers and the black sorghum has anti-inflammatory properties, as well as being gluten free. These are delicious with pretty much any fruit so feel free to your favorite in place of the blueberries.
Sorghum Blueberry Tartlets- Gluten Free Breakfast Recipe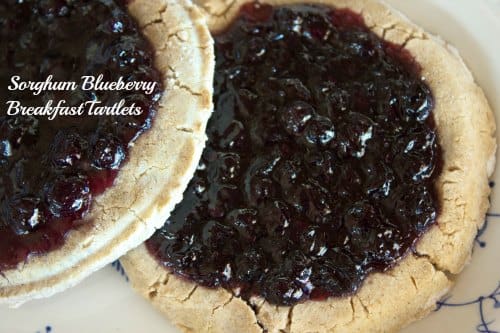 Prep Time: 10mins | Cook Time: 15mins | Servings: 2 – 4
Sorghum Blueberry Breakfast Tartlet Ingredients:
Sorghum Blueberry Breakfast Tartlet Crust
¾ cup sorghum flour (you may substitute oat or almond flour)
¼ cup almond, rice or oat flour
¼ cup coconut butter or almond oil
2 eggs (or two to three tbsp ground flax/chia seeds)
½ to ¾ cup water
Sorghum Blueberry Breakfast Tartlet Compote
½ cup blackberries
½ cup blueberries
1 apple, grated
½ tsp ginger
Sorghum Blueberry Breakfast Tartlets Preparation
Mix the flours.
Scoop out a well in the middle and crack in the eggs. If using Flax or chia seeds, soak in a little water, then blend into the dough.
Fold it all together. Pour in the oil and knead into the dough till mixed. Add in the water, bit by bit, till you have a workable dough.
Cover and put in the fridge while in a small pot you mash up the berries with the apple and ginger.
Retrieve your dough and divide it into 2 – 4 equal balls. Use a rolling pin to lightly roll out the dough and then use the bottom of a small cup or jar to make a depression of between ½ to 1 inch.
Spoon some berry mix into it. Don't heap up the berry mix or it'll spill out over the sides when you bake.
Transfer to an oiled or non-stick tray and bake at 200C/390F for 10-20 minutes, depending on your oven, until just starting to brown.
75% of your RDA Vitamin C
50% of your RDA Vitamin K
Anti-inflammatory Ingredients: almonds, coconut, mango, black sorghum.
Antihistaminic Ingredients: coconut, mango, ginger.
Antibacterial Ingredient: coconut.
These Sorghum Blueberry Breakfast Tartlets are gluten free, tasty and full of great ingredients.
Thanks again to,Yasmina Ykelenstam, The Low Histamine Chef for sharing it with us.