Celebrity chef Tyler Florence has recently partnered with gourmet food company Alexia Foods to help everyday cooks make gourmet-quality meals any night of the week.   I am excited to have been given permission to share Florence's latest Tangerine Glazed Baked Ham recipe paired with Sweet Potato Puffs. A sweet and savory combination of sweet tangerine glaze accompanied by Alexia's ever-popular, all-natural Sweet Potato Puffs, this delicious recipe is sure to please any kids' taste buds!  Chef Tyler Florence has actually said Alexia Sweet Potato Puffs are his kids all-time favorite sweet potato side dish, in addition to being a side parents can feel good about serving as an excellent source of vitamin A.  I haven't tried the Sweet Potato Puffs yet but but the Alexia Sweet Potato fries are a favorite in my house!
Tangerine Glazed Baked Ham Recipe with Alexia Sweet Potato Puffs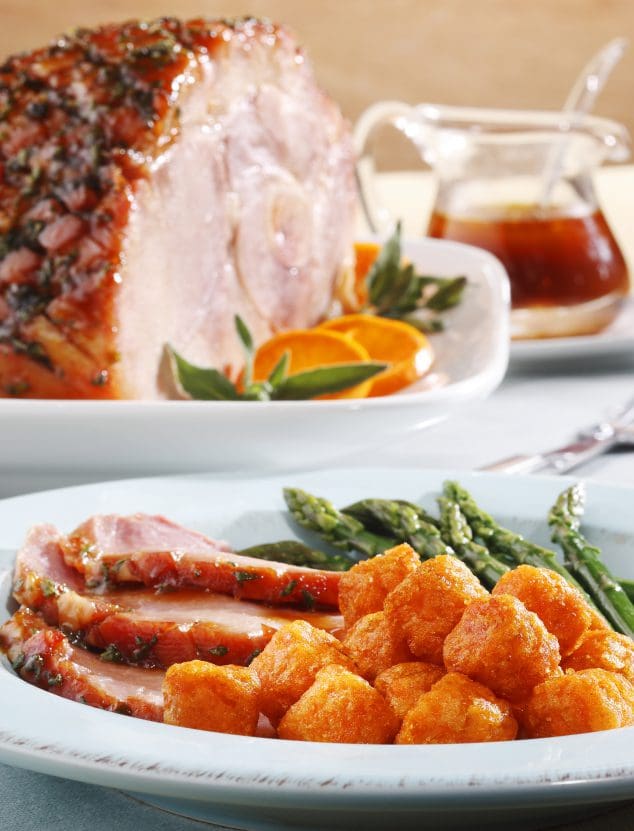 Recipe courtesy Tyler Florence
Yield: 10-12 servings
Tangerine Glazed Baked Ham Recipe Ingredients:
• 1 (8-10 pound) smoked ham, bone-in, skin on
• Kosher salt and freshly ground black pepper
• 1 bunch fresh sage leaves
• 1/4 cup extra-virgin olive oil
• 1 cup (2 sticks) unsalted butter
• 2 tangerines
• 2 cups tangerine juice
• 2 cups light brown sugar, packed
• 1 cup water
• 1/4 teaspoon whole cloves
• 2 cinnamon sticks
Tangerine Glazed Baked Ham Recipe Directions:
Preheat the oven to 300 degrees F.
Place the ham in a large roasting pan, fat-side up. Using a sharp knife, score the
ham with cuts across the skin, about two inches apart and one half inch deep.
Cut diagonally down the slashes to form a diamond pattern, and season the ham
generously with salt and pepper.
Chop about 8 sage leaves and put them in a bowl. Mix with the oil to make a paste.
Rub the sage oil over the ham and into the slits. Place the ham into the oven and
bake for 2 hours.
While the ham is baking, prepare the glaze. Cut the butter into chunks and add to
a saucepan. Slice the tangerines, remove the seeds and add to the saucepan. Place
the saucepan over medium heat. Add the tangerine juice, brown sugar, water, and
spices. Reduce heat and slowly cook the liquid for about 30 to 40 minutes until it
becomes a syrupy glaze.
Once the 2 hour cook time for the ham has passed, remove from the oven pour the
tangerine glaze (including the fruit) on top of the ham. Scatter the remaining sage
leaves on top and stick the ham back in the oven and continue to cook for 1 1/2
hours, basting with the juices every 30 minutes.
Set the ham on a cutting board to rest for 20 minutes before carving. Serve with
Alexia Sweet Potato Puffs.
You may wish to check out
Recipe provided for publish on my blog by Alexia Foods.