Is it a baby bonanza out there for you too? It seems that summer and winter are the calling times for expecting mothers, and it's always fun to throw a themed party, even if it is for winter!
Winter brings out all the cozy, savory foods, like chili and stews. And nothing says winter like the cool tones of blues and whites, and bonu:, it's okay to make everything sparkly, like snow, duh! If you're hosting a baby shower this winter, here are a few magical ways to bring the season of snow and Christmas to the event.
Winter-Themed Baby Shower Ideas : Food & Decorations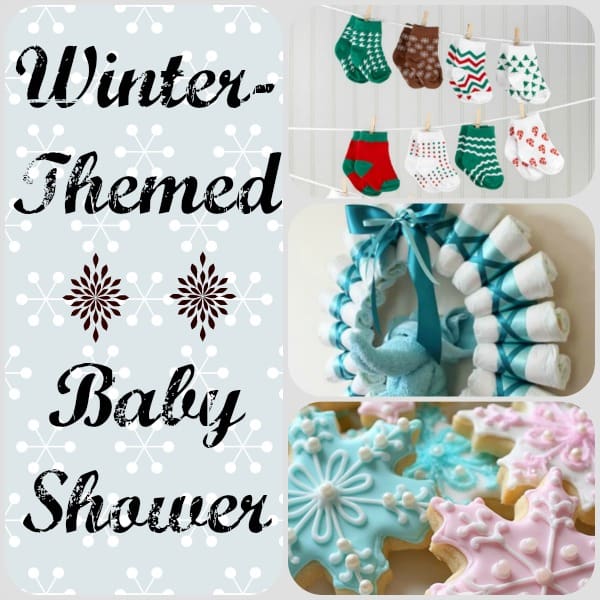 First let's start with food ideas. As I mentioned earlier, winter is cold. So why not warm your guests up with some simple soups? A soup or chili bar can be a delicious way of sampling winter. Cheesy Potato Stew? Spicy Chili? Zesty Autumn Squash? Classic Chicken Noodle? Yes, please. Throw in some yummy rolls or crackers and everyone settles in to get cozy.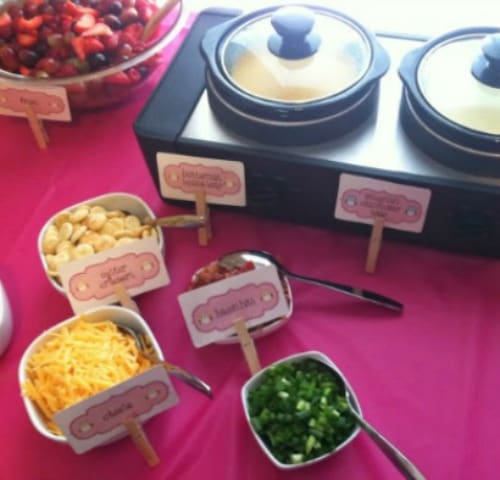 http://www.sincerelyarizona.blogspot.com/2013/11/look-whoos-having-baby-girl.html
This site offers an excellent tutorial on how to make a chili bar, complete with recipes! And with soups and chili, it's okay to have too much, because you can just freeze for leftovers what doesn't get eaten! And save yourself some time as you get bogged down in wrapping gifts.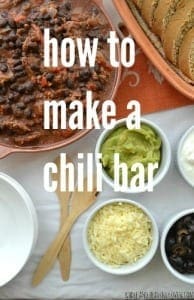 http://wholeandheavenlyoven.com/2014/10/12/how-to-make-a-chili-bar/
If soup isn't your style, celebrate the cold with a hot chocolate bar. This is a super easy, diverse, and yummy option.  Not to mention, pretty cost effective. There are tons of topping ideas, and numerous homemade recipes for crock-pot hot cocoa if you want to make your own, but let's admit it, Swiss Miss does a pretty good job. To hit everyone's sweet spot, you can even offer complimenting liqueur options, like peppermint schnapps and Irish cream. I mean, YUM.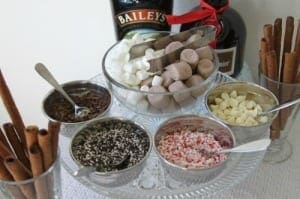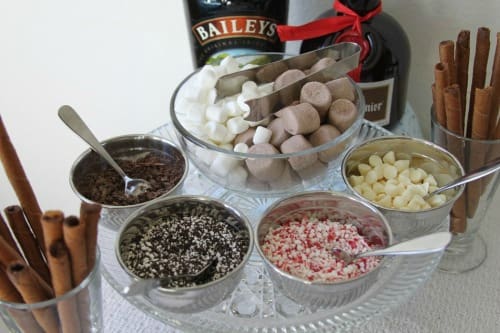 What's more Christmas-y than Christmas cookies? The season for making shapes with our food – take full advantage. Bottles, booties, onesies, even snowflakes! All of these are fun options for a baby shower, especially when decorated with pink or blue icing!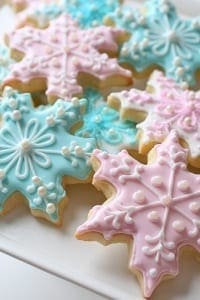 http://www.annies-eats.com/2010/12/22/snowflake-sugar-cookies/
Hot chocolate mix in a bottle makes a very cute, inexpensive, and appropriate shower favor.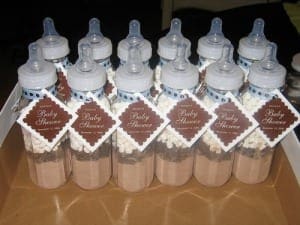 http://blovelyevents.com/2013/04/03/oh-the-things-you-can-do-with-bottles/
These cake pops glitter in their white snowflakes. What a glamorous treat!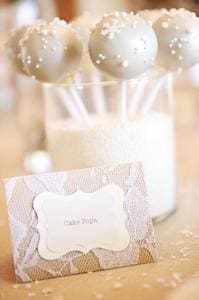 http://www.karaspartyideas.com/2014/03/baby-cold-outside-winter-wonderland-twin-birthday-party.html
The above blog site shows all the details of a beautiful winter wonderland themed birthday party, many ideas of which could be adjusted to suit a baby shower!
Now let's hit up non-edible decorations.
These ice-gray balloons decorated in white snowflakes are a perfect item for a winter baby shower of either gender.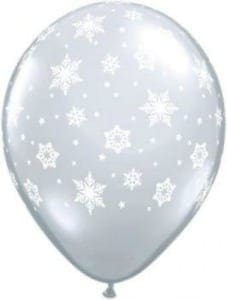 http://www.amazon.com/gp/product/B00606QHX2/ref=as_li_ss_tl?ie=UTF8&camp=1789&creative=390957&creativeASIN=B00606QHX2&linkCode=as2&tag=pin-frozen-20
Diapers, well they offer some really cool ideas. Diaper tree, anyone? Check out how to make one here.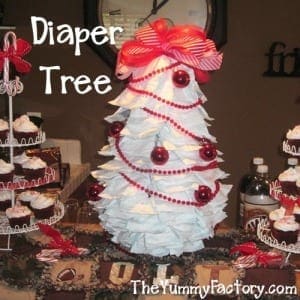 http://www.itsayummylife.com/christmas-baby-shower-with-a-diaper-tree/
Or how about a decorative diaper wreath? What a cute, festive idea! I mean, they have to be had, and they're great to receive, so pick out your color ribbon and wrap those things together!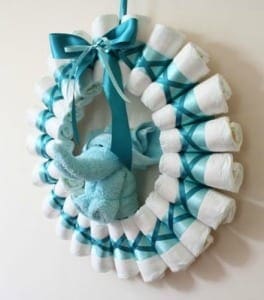 http://www.homemade-gifts-made-easy.com/diaper-wreath-instructions.html
Ooh, nothing portrays a winter wonderland theme better than frosted pine cones. This site linked shows them for sale, but they are pretty easy decorating items to make yourself. With a little frosted glitter on the tips, any pine cone can be a winter wonderland place cardholder. The idea was taken from a wedding magazine, but if you can make them for cheap, why not use at a baby shower?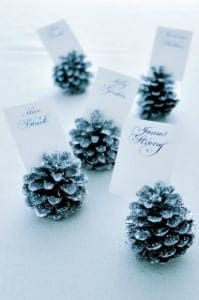 http://www.bridesmagazine.co.uk/planning/receptions/diy-details/2009/10/01/pine-cone-place-cards
Another wonderful decorating idea are these little Christmas-colored baby socks! Hang them around like garland and listen to everyone point out the cuteness. Besides, then that little bundle will be stylin'!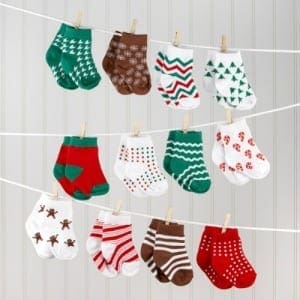 http://www.better-babyshower-ideas.com/christmas-baby-shower-ideas.html
Another fun twist on winter activities to turn to your advantage are paper snowflakes. This site gives a free pattern for baby bottle-shaped cutout snowflakes!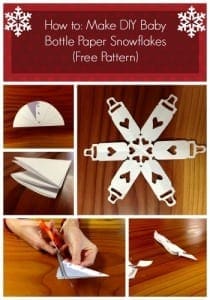 http://babyli.st/blog/how-to-make-diy-baby-bottle-paper-snowflakes-free-pattern/
What do you think?
Have you been to any winter-themed baby showers recently? If you have, share what was your favorite decoration or idea in the comments below!