I love playing a good game. Games seem to lighten the mood and are great for connecting with others. Zip-Bom is a really easy, fun group game my nieces taught me. Zip-Bom does not require anything but yourselves to play.   We were in giggles in no time!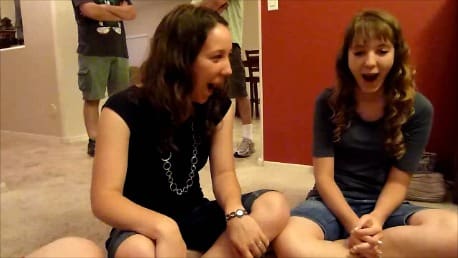 Zip-Bom Game Instructions
Object:  Keep the game moving, without mixing up the cues.
Set-Up:  Have all the players sit in a circle, facing the middle.
How To Play Zip-Bom:

Rule 1: Two verbal commands keep the game in motion. A player must turn and face the person next to him and say either "ZIP" or BOM". The command "ZIP" starts the game going one direction, and "BOM" reverses the motion.
Rule 2: You cannot show your teeth! Keep your lips covering your teeth. You'll get the humor of this as you start playing.
Rule 3: You can choose to have elimination or just keep playing for fun and see how long you can keep it going.
For Example- One person starts the game by turning to the player on his left and says "ZIP". This starts the play in motion. That person can then either remain facing the first player and say "BOM" to reverse the direction, or can turn to the person to his left and say "ZIP".
Tips:
* Make sure you face the direction that corresponds to the command you are giving. If the person on your left turns to you ands says "ZIP", you cannot say"ZIP" back to him. You could either face left and say "BOM" or turn right and pass the "ZIP" on in the same direction it was already traveling. If the wrong command is given, the player who messed up is out of the game. Keep playing until there are just two players left.
* The faster the game goes, the more challenging, and fun. Keep the game in motion, and get faster as you go!
Here's a quick video demo of the Zip-Bom Game:
Guest post by Michelle of Fun On A Dime who regularly showcases inexpensive family fun activities on her blog.  You may want to visit it to see some more of her fun ideas and games!
Know any fun games you want to share or have you played Zip-Bom before?