There are so many good stuffings/dressings for your turkey it can be hard to choose!  After tasting this delicious cornbread dressing, I was knew I found my favorite.  Even my five year old son liked this cornbread dressing recipe so it is kid approved.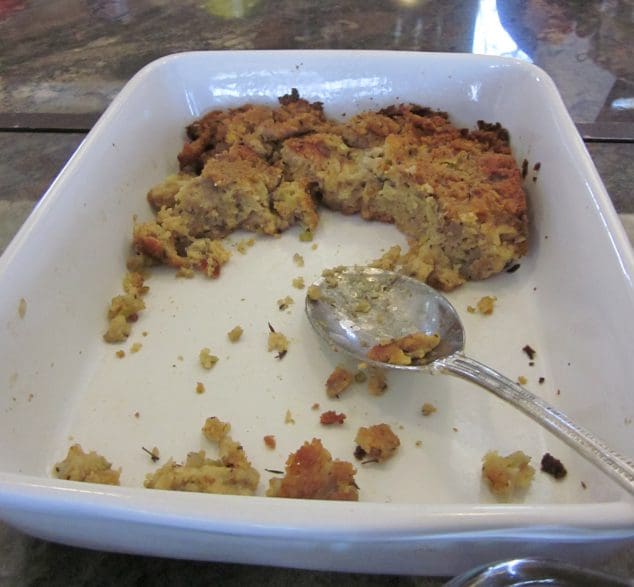 Cornbread Dressing Recipe:
My grandmother always liked a cornbread dressing so I share this recipe with you in her honor. You are sure to enjoy it as the savory flavors of thyme and garlic go great with the corn and turkey flavors. You can cook this delicious cornbread dressing up ahead of time or anytime because you don't have to cook it in the bird. In fact, the turkey cooks most evenly if you don't stuff it full of dressing (instead I throw some herbs and citrus in the cavity while it bakes.)
Cornbread Dressing Ingredients-
6 cups crumbled cornbread
3 cups bread crumbs
3 tablespoons butter
1 tablespoon corn oil
2 cups copped onion
2 cups finely chopped celery
2 teaspoons chopped garlic
2 1/2 cups chicken or turkey broth
1 1/2 teaspoons Thyme
1 teaspoon salt
1/2 teaspoon black pepper
3 eggs lightly beaten
How To Make A Delicious Corn Bread Dressing For Thanksgiving –
Preheat oven to 350.
Cook onion, celery, and garlic in a frying pan with butter and oil until soft.
Stir in minced herbs.
Place cornbread crumbles, bread crumbs and vegetables into a mixing bowl.
In a separate bowl, mix 2 cups of stock and eggs together before combining with the cornbread mixture.
Add one more cup of stock if needed.
Pour into greased baking dish and cover with foil.
Bake at 350 for 35 minutes or until an inserted toothpick comes out clean.
This cornbread dressing is so good!  I got the recipe from a cooking class by Chef Richard Jones at the Green Door Gourmet.   Enjoy and Happy Thanksgiving! What are some of your favorite Thanksgiving dishes?