I love pumpkin pie- so smooth, flavorful, and full of holiday spices.  Yum!  Here is a flavor forward, yet healthy Thanksgiving dessert recipe from Hope Cohen.  She is author of two time award winning cookbook: Fast, Fresh + Simple.  Her recipe for pumpkin pie without the crust will save you calories and time, plus it is gluten-free!  Gotta love that!  You can find more of her recipes and/or check out her cookbook at www.fastfreshandsimple.com
A Healthy Thanksgiving Dessert- Naked Pumpkin Pie Recipe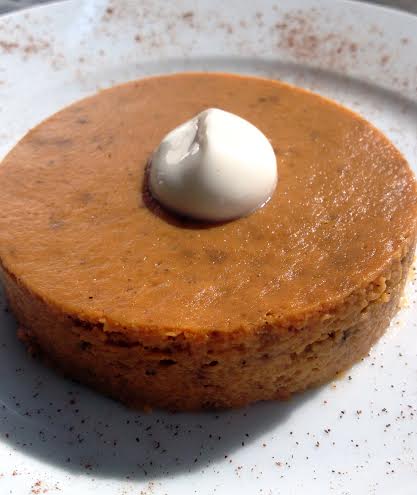 Experience your favorite pumpkin pie flavors without the added time (and calories) of pastry. You're going to love these flavors!
Makes 6 servings
Naked Pumpkin Pie Ingredients:
1 can (15 ounces) unsweetened pumpkin
1/2 cup granulated sugar
1/4 cup dark brown sugar
1/2 teaspoon fine sea salt
1 teaspoon ground cinnamon
1 teaspoon freshly grated ginger (use a fine Microplane grater, page 000)
Pinch of ground cloves
Pinch of freshly grated nutmeg
2 large eggs, beaten
1/2 cup heavy cream
1/2 cup whole milk
Softened butter for coating baking dish ramekins
1 cup crème fraîche, purchased or homemade (page 000)
1 tablespoon real maple syrup
Naked Pumpkin Pie Directions:
1. Preheat oven to 350˚F.
2. Mix the pumpkin, sugars and spices in a large mixing bowl with a whisk until smooth. Add eggs, cream and milk, stirring until smooth.
3. Butter a 1 1/2 quart baking dish or 6 4-ounce ramekins. Set in a baking pan and pour boiling water into the pan until it comes half way up the sides of the baking dish or ramekins. Pour the pumpkin mixture into the prepared baking dish(es).  Bake just until the filling is set in the center (when you jiggle the dish the mixture will still move a bit) about 35-40 minutes for ramekins, 50 minutes to 1 hour for a large baking dish.
4. Allow "pie" to cool for at least 2 hours and serve or refrigerate for serving the next day.
5. Garnish your naked pumpkin pie with crème fraîche, mixed with maple syrup.
You will love the pumpkin and spice combination in this gluten-free naked pumpkin pie.  Do you think you will try this recipe for lighter version of a standard Thanksgiving dessert?