Today, I am excited to bring you a turkey casserole baby food recipe from Marni of Love and Duck Fat.  As a new stay-at-home mom with a baby boy she decided to channel her creativity and started her food blog, loveandduckfat.com.  The recipes you find there are delicious, made-from-scratch meals and desserts.  I like that she uses a some flavorful ingredients in her baby food.  Who says baby food should be bland?  With small amounts of herbs, she expands the baby pallet and prepares it for more that just peanut butter and jelly sandwiches!  Without further ado, I turn the stage over to Marni-
Turkey Casserole Baby Food Recipe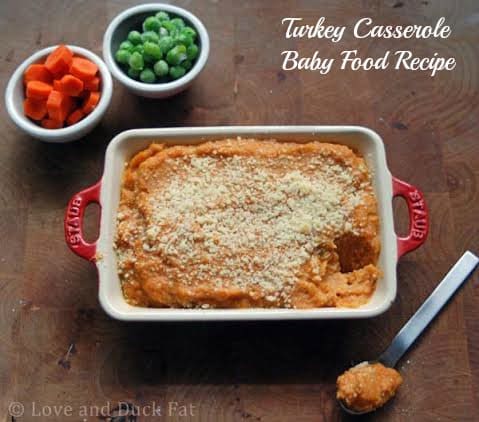 Your baby will love the rich, comfort-food flavors in this baby food turkey casserole recipe (mine does!). Inspired by delicious home-cooked meals, this healthier turkey casserole recipe is the perfect food for baby. Full of fresh vegetables, potatoes, turkey and creamy yogurt, it tastes just as good as an adult version without the added salt and fats. It freezes well too, so you can make a big batch to freeze for later.
This recipe is appropriate for babies six months old and up, with some adjustments. Puree the mixture until very smooth for younger babies, adding extra chicken broth if necessary. Omit the sprinkle of cheese if your baby does not eat dairy. For older babies, you can finely chop the ingredients before cooking, and then mash them together with a potato masher.
Turkey Casserole Baby Food Ingredients:
Use organic ingredients if possible.
• 1 teaspoon olive oil
• 1/8 cup onion, chopped
• 1 cup carrot, chopped
• ½ cup peas (frozen)
• 1 cup potato, peeled and cubed
• ½ cup cooked turkey, cubed
• 1 cup chicken or turkey broth
• pinch powdered sage, thyme or rosemary
• 2 tablespoons plain yogurt
• sprinkle Parmesan cheese (optional)
Turkey Casserole Baby Food Recipe Directions:
In a small saucepan, heat the olive oil over medium heat. Add the onion and sauté for 5 minutes. Add the carrot, peas, potato, turkey, broth and herbs. Cover and cook for 20 minutes, until the vegetables are tender. Allow to cool.
To puree, add the cooled mixture and yogurt to a food processor and blend until smooth, adding more broth if necessary.
Serve the turkey casserole baby food as-is, or top with Parmesan cheese and roast in a 350° F oven for 15 minutes.
I hope you enjoy this turkey casserole baby food recipe from Marni of Love and Duck Fat Blog- you can find more of her baby food recipes on loveandduckfat.com. You may also want to check out a baby food recipe that Tyler Florence shared for a fruit puree.