I am very excited to tell you that Bai5, antioxidant infusion drinks, provided me with a variety pack to review.
About Bai5 Antioxidant Infusion Drinks:

Did you know that coffeefruit, the casing that surrounds the coffee bean, is an antioxidant powerhouse?  Well, I didn't either.  In case you are wondering, antioxidants are natural substances found in healthy foods and drinks that fight free radicals and stop the damaging process of oxidation by battling against cellular damage.  Bai drinks are made to capitalize on the coffefruit natural antioxidants; bai mixes in some exotic fruit juices to create a great-tasting, healthful beverage.
The name bai – the Mandarin word for "pure" – was chosen to represent the simple, natural goodness of a beverage dedicated to fostering great health.
What Are The Bai5 Ingredients?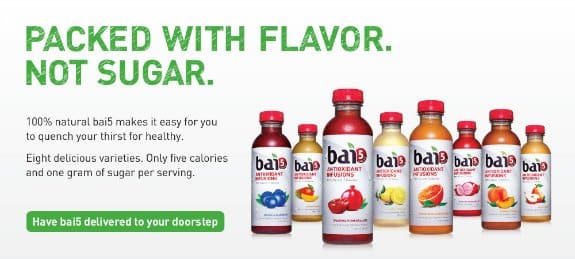 My first question was what are the ingredients used in Bai5 antioxidant infusion drinks?  I am always curious to know that!  First let me say that bai5 is 100% natural and it is gluten free.  But you may be wondering how they taste so good only 5 calories. That is want I wanted to know!  Bai5 uses a combination of Organic stevia, derived from an herb, and Erythritol (ih-RITH-ri-tawl), made from field corn or wheat, to sweeten bai5 beverages.  The natural sweeteners used in bai5 are low glycemic – meaning they don't raise blood sugar levels in the body.
Here are the bai5 ingredients for Limu Lemon (just as an example since there are 8 flavors):
Filtered water, erythritol natural sweetener, lemon juice concentrate, natural flavors, organic coffeefruit, citric acid, organic stevia extract, white tea extract
Bai Antioxidant Infusion Review: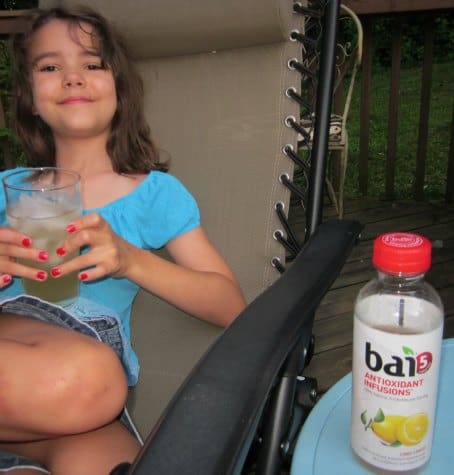 I tried the variety pack and I liked them all.  So did my 6 year old boy.  He was always there when I opened one up with a big smile on his face.  Each one had it unique exotic flavor which was not too bold but rather gentle as the juice for the flavor is mixed with water and white tea extract.  When I opened the dragonfuit flavor, my son didn't want to try it as he had tasted a dragonfruit once before and not liked it.  I told him you should always give things more that one try and this was different anyway.  He took a sip and said, "Stand back.  This is all mine."  My daughter who never really cares for more than a taste of juice, did some drinking herself and her favorite was Limu Lemon.
Want to try a variety pack of bai5 drinks yourself?  You can order them online and have them delivered straight to your door!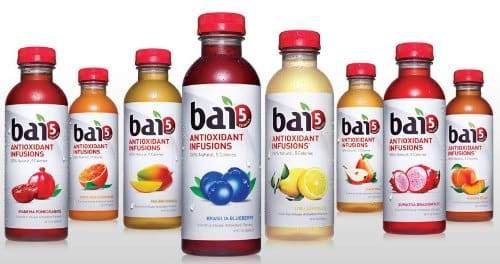 I was provided with Bai5 antioxidant infusion drinks in the hopes that I would share my honest opinions.  I did not receive monetary compensation and the opinions expressed are my own.