Summer is now upon us and kids will be enjoying a long break away from school. No more early morning starts, pop quizzes or homework assignments – just family vacations to enjoy, playing outside with friends and hours of kid's TV shows to catch up on –absolute bliss!  However, as I'm sure a lot of us adults will remember from our school days, returning to school after such a lot of time off can be a bit of a struggle.  Educational psychologists have studied this phenomena extensively, and have coined the term 'summer slide' or 'summer brain drain', to describe the first week back feeling that many kids will experience at the start of the new school year.  This post will look at ways in which parents can prevent summer learning slide and keep their child's brain ticking over during the long summer vacation.
Summer Learning Loss Research
According to the National Summer Learning Association, extensive research which has been carried out over the last century has found that time and time again children will experience learning loss over the summer period, if they do not regularly engage in learning activities. Researchers estimate that kids lose about two months of their grade level equivalency in math skills over summer.
Tips for Parents: Preventing the 'Slide'
For children, the long summer off provides endless opportunities for play. However, usually by the end of the first week, children will quite often complain that they are bored.  To help, we have gathered some educational activities for parents that will hopefully go some way in keeping kids busy and preventing any 'dips' in their academic attainment over summer.
10 Learning Activities To Prevent Summer Learning Slide: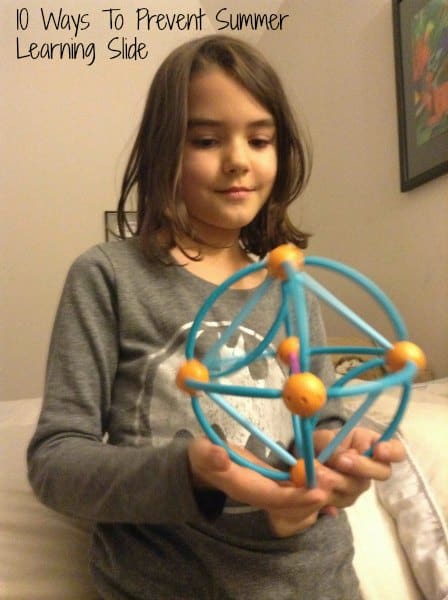 Get Crafty
Kids love messy play activities, one, because they get to cover themselves in  glue and glitter and two, because these activities give kids the chance to use their imaginations to express themselves. If you are looking for inspiration for inexpensive craft ideas, Pinterest is brimming with related links.
Splish Splash Math
In this activity suitable for children on the younger side of elementary school, kids can learn about volumes and measurements, as well as getting the opportunity to cool off on a hot summer's day in the garden. You will need various shapes and sizes of containers, a kiddy pool and some water. Get your child to experiment with the containers to find out which holds the most/least amount of water, and ask them various other volume related questions and get them to report back to you.  You may also want to fill down time on car rides with math or multiplication challenges to make sure they stay quick thinking.  Experiment with shapes and geometry. You may also want to try a math journal.
Fun with Food
Diet is important over the summer months, as your child will be growing and developing over the long break away from school. Make sure that you relay this message to your child and try to involve them in healthy food preparations as much as you can. Now we all know that kids aren't the greatest fans of healthy foods, however, studies have shown that by offering a small reward you can encourage children to eat more of their fruits and vegetables.
Go to the Library
Libraries will typically run kids programs over the summer months, which may include readings from volunteers, reading challenges and even costume days, so sign your kids up for these (often free) activities. Further than that, make sure that your child has plenty of books to read around the house and make an effort to sit down and read to or with your child every single day.
Get Them into History
Go through your old family photo albums and try and involve your child in learning more about your family tree. Many families talk about the present day's activities around the dinner table, however, you could use this as an opportunity to change the topic one day and instead discuss the issues that surrounded your family's past – WWII for example, or the Great Depression.
Go on a Nature Hike
Get out into nature with your kids by taking them on a hike through the woods. As you go, give them a little lesson in biology by pointing out the names of all the plants and wildlife you encounter on the journey. You may need to take a little guide book with you to help, but the fresh air should do you all the world of good.
Paint Hangman
For an opportunity to improve your kid's spelling, and to have a lot of fun, this game of paint hangman should be just the ticket. Get some sheets of paper and some paints and think of a word. Next get your child to call out letters – if they get one right, fill in the letter on one of the sheets of paper. If they get a letter wrong however, splodge a bit of paint somewhere on their body – just make sure they're wearing old clothes that you don't mind getting messy!
Field Trips
Check your local community notice board for free events and museum/gallery exhibitions in your area. If you have exhausted your community's free or inexpensive events, then you could always explore the local farm or animal shelter – many places like this will even let you feed the animals.
Do Some Drama
Get your child to dramatize one of their favorite stories. For example, this activity is based around The Three Little Pigs and sees the child building mini pig sties out of Lego, straws and lolly sticks. These kinds of activities boost the child's memory, speaking and listening skills.
Play with Shadows
Over the long, hot summer there are bound to be some sunny days where you can get your kids out in the garden and learning about shadows and the Earth's orbit.  Create your own homemade paper plate sundial, or shadow puppet theatre or simply see what shadowy shapes your child can make using their own bodies.
These educational activities are lots of fun, as well as useful to keeping your child learning over the summer.  If you have any comments or suggestions on preventing summer learning slide, please share your thoughts in the comments section below.