I love healthy eating but only if it is delicious! That is why I am happy to share with you today an amazing Blueberry Yogurt Lemon Bars Recipe from nutritionist and wellness expert, Katie Cavuto. She has made it her mission to use her distinctive background as a chef and integrative dietitian to teach others how easy and rewarding it can be to live a healthy lifestyle.
This Blueberry Yogurt Lemon Bars Recipe is just one of many approachable, whole foods based recipes from Katie Cavuto's new cookbook WHOLE COOKING AND NUTRITION. She makes it easy to embrace a healthy lifestyle with more than 150 simple and delicious recipes. By focusing her attention on whole foods, she is able to help people with diabetes discover a diet rich in flavor and nutrition that isn't no calorie/low calories or "no sugar added." This healthy eating with all the joy of loving foods you eat! If you want to learn more about her cookbook, I have included an affiliate amazon link below:
Blueberry Yogurt Lemon Bars Recipe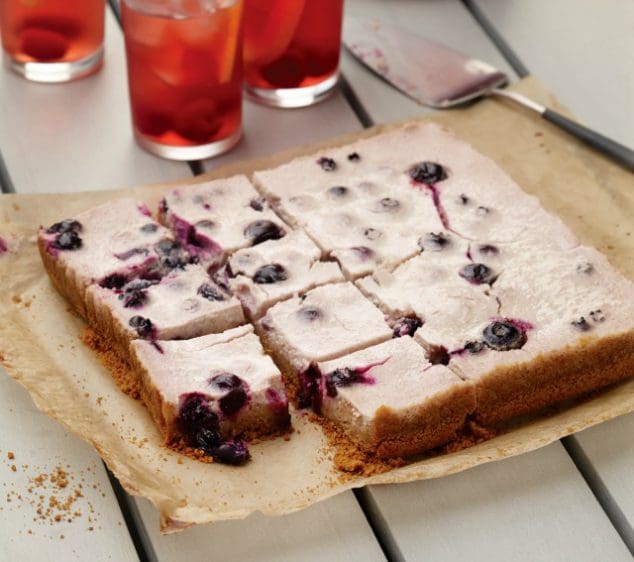 SERVES: 16 | SERVING SIZE: 1 SQUARE | PREP TIME: 10 MINUTES | COOKING TIME: 35–45 MINUTES
Thanks to the The American Diabetes Association® for allowing this reprint of the Blueberry Yogurt Lemon Bars Recipe.
A crunchy, graham cracker crust is the perfect foundation for this creamy, citrus-scented bar. A cross between cheesecake and a lemon bar, this sweet treat is sure to evoke some childhood memories!
Ingredients:
Nonstick cooking spray

1 1/2 cups unsweetened graham cracker flour (see tip)

3 tablespoons avocado oil

1 tablespoon plus

2 teaspoons freshly grated lemon zest, divided

1/4 teaspoon fine sea salt

1 whole egg

3 egg whites

2 cups Siggi's nonfat blueberry yogurt OR 2 cups fat-free vanilla Greek yogurt

1 teaspoon maple syrup

1/4 cup freshly squeezed lemon juice

1 tablespoon freshly grated lemon zest

3/4 cup fresh blueberries
How To Make Blueberry Yogurt Lemon Bars
1. Preheat the oven to 350°F.
2. Line an 8-inch baking dish with parchment paper, then coat it with nonstick cooking spray.
3. To make the crust, add graham cracker flour, avocado oil, 2 teaspoons lemon zest, and salt to the bowl of a food processor; pulse to combine. Press mixture into the bottom of the prepared pan. Bake for 10–15 minutes, or until crust is golden brown. Then remove pan from the oven and set aside to cool.
4. To make the filling, process the egg, egg whites, yogurt, maple syrup, lemon juice, and remaining 1 tablespoon lemon zest in a blender until smooth. Stir in the fresh blueberries. Pour the filling onto the prebaked crust.
5. Transfer pan to the oven and bake for 25–30 minutes, or until the center is set. Remove pan from the oven and place on a wire rack to cool completely. Cut into 16 equal-sized squares and serve chilled or at room temperature.
TIP: To make graham cracker flour, add 15 graham crackers to a food processor and process until they reach a flour-like consistency.
Yields 1 1/2 cups.
EXCHANGES/CHOICES 1/2 Carbohydrate 1 Fat CALORIES 90 CALORIES FROM FAT 35 TOTAL FAT 4.0 g SATURATED FAT 0.5 g TRANS FAT 0.0 g CHOLESTEROL 15 mg SODIUM 105 mg POTASSIUM 75 mg TOTAL CARBOHYDRATE 10 g DIETARY FIBER 0 g SUGARS 6 g PROTEIN 4 g PHOSPHORUS 55 mg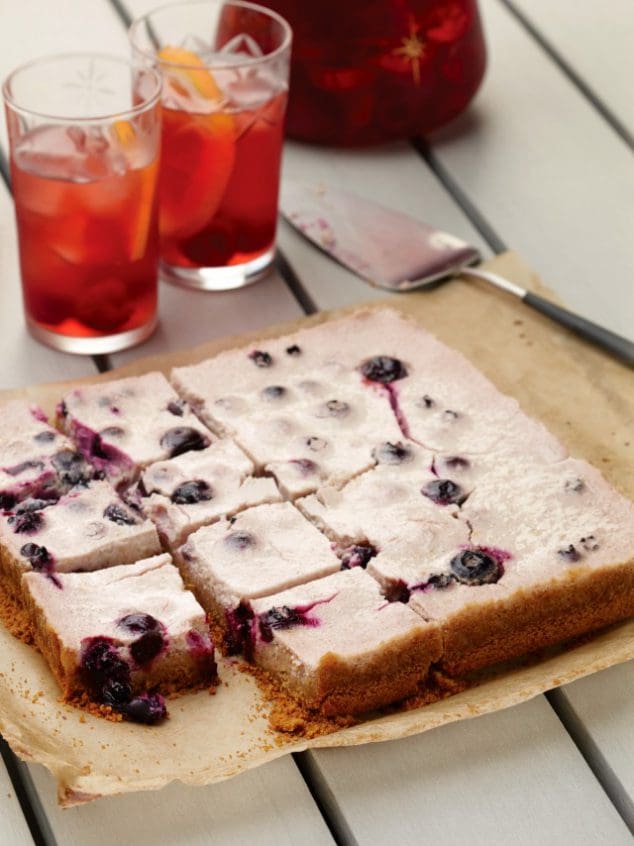 I hope you enjoy this Blueberry Yogurt Lemon Bars Recipe. I think it is such a delicious treat and a perfect whole snack for kids too!  Let us know if you make this Blueberry Yogurt Lemon Bars Recipe and tag @familyfocusblog in your pictures so we can have a peek!