As I go shopping or window shopping, I always see cute shirts with funny sayings on them. What if I told you that you could make your own shirt or tank top with whatever saying you want! Wanting to make the perfect gift? No problem, just make your DIY bleach pen shirt! Wedding Chick's DIY bleach pen tank top gave me the idea to make a t-shirt as a gift. You can use any saying, theme, hashtags, or simply whatever you personally want on the t-shirt. My boyfriend saw a shirt online of a coffee molecule on it and loved it! So I told him, "Let's make the shirt!" We went to the store and bought the t-shirt for him. In the process of making this DIY bleach pen coffee molecule t-shirt, he was very impressed on how it was turning out! Check out how simple the process is to make your own DIY bleach pen shirt!
How to make your own custom DIY Bleach Pen Shirt
DIY Bleach Pen Shirt Supplies:
Any color t-shirt you want to use. Fun colors are always great!
Clorox bleach pen
A cutting board
White pencil eyeliner
Plastic shopping bag/garbage bag
DIY Bleach Pen Shirt Tutorial:
Step 1:
The first step is to figure out what you want in your shirt. Make sure you draw what you want out on a sheet of paper and are satisfied on how it turns out. This way you can practice and perfect what you want to draw.
Step 2:
Set up your area. Make sure the area you are working in has good air circulation; because you are working with bleach it can have strong aromas and lots of bleach smell in the air.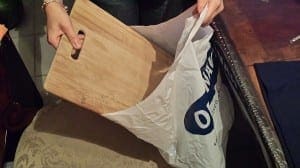 Step 3:
Lay out your t-shirt or tank top on a flat surface. Take your cutting board and cover it with the plastic shopping bag. Once the cutting board is covered, slide the board with the bag in the shirt. This prevents the bleach from bleeding onto the back of the shirt.
(If you are using a tank top, use tape to strap down the straps of the top or have someone hold them down.)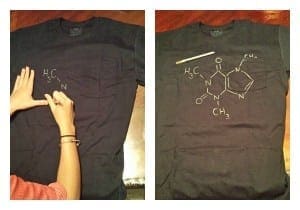 Step 4:
Here is where the white pencil eyeliner comes in handy! Use the white eyeliner to draw out your design (you would want the design across the chest.) This helps you so much instead of using the bleach pen with a free hand. (Don't worry the eyeliner comes off when you wash it!)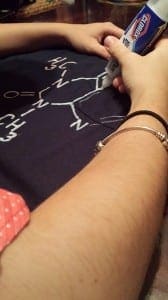 Step 5:
After you have draw out your design with the white eyeliner, use the bleach pen to trace over the eyeliner. See no free handing! Yay!!
Step 6:
Once you are finished, carefully pull the cutting board out of the plastic bag of the t-shirt or tank top. Make sure the plastic bag is left in the shirt so the bleach doesn't bleed onto the back of the shirt.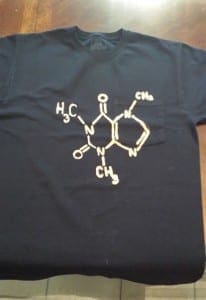 Step 7:
Let the t-shirt or tank dry for 1 hour. The bleach will turn from the thick cream to a gel- like substance.
Step 8:
Repeat the process if you want to make more DIY bleach pen shirts or tanks!
Step 9:
After your shirts are dry, it's time to wash them! Run your washing machine on a light setting, letting the water fill at least 4 inches. Place the shirts in one at a time. Run the washing machine full cycle WITHOUT DETERGENT, and then place them in the dryer.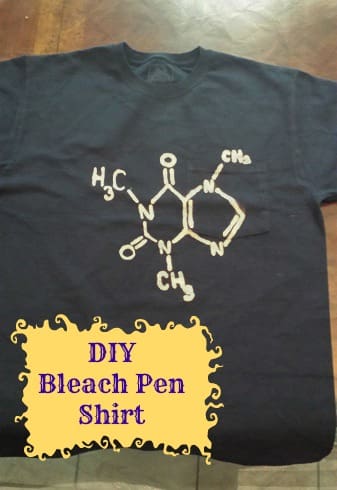 Enjoy your custom DIY bleach pen shirt!
Now that you know how to make your own DIY bleach pen shirt, will you make your own custom shirt? It can be a great way to upcycle a t-shirt. How about making them as gift or a during a party? Let me know how yours turns out and if you liked it!