Crisp, cold air. Cinnamon spice everything. The woods covered with frost as winter is finally rolling in. Getting lost in tree farms, but trying not to get lost in the hustle and bustle of the holidays that are right around the corner. Nibbling on sweet treats like these easy chocolate oatmeal no bake cookies!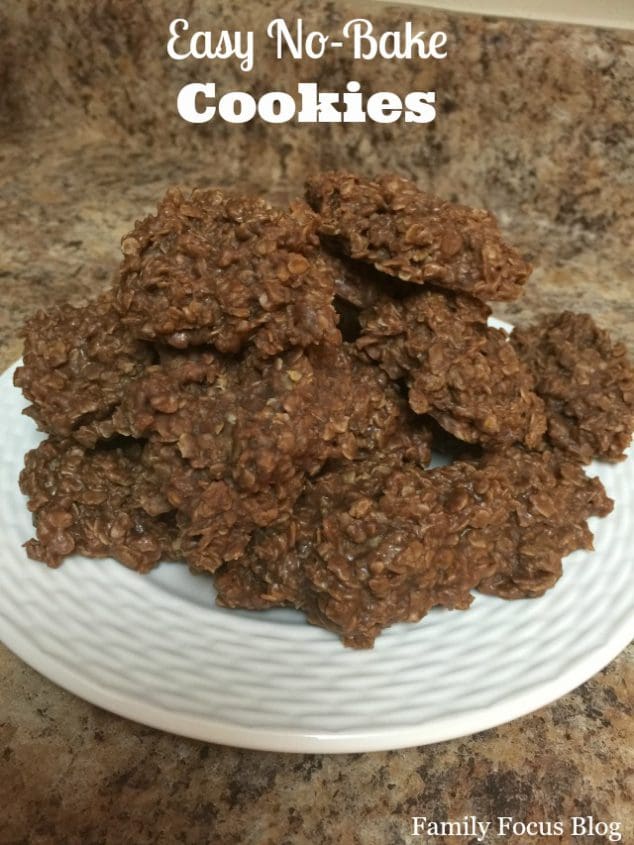 I find myself running around like crazy this time of year, trying to keep up with presents under the tree and getting ready for company to fill my home. I love how this time of year has a way of bringing families together, especially in the kitchen.
Throughout the year, I find myself trying to get by with freezer meals and the closest drive through. Then comes December, and I find myself dusting off my bakeware. As I've started thinking about all my holiday treats, I thought I would share one of my favorite no-bake cookie recipes with all of you that is one of my family's favorites.
This easy chocolate oatmeal no bake cookies recipe is mouth-watering, quick, and fun to share with everyone. This recipe has been our family favorite for generations. Sometimes, I secretly make a batch just for myself… shhhhh don't tell anyone! I hope you enjoy this quick recipe that will warm the hearts of your neighbors, school teachers, and families alike. It will also warm your heart with chocolatey goodness!!
Easy Chocolate Oatmeal No Bake Cookies Recipe:
Here is a brief little video so you can see how it is done followed by the full recipe below:
Ingredients:
2 cups of White Sugar
3 tbsp Unsweetened Cocoa Powder
1/2 cup Milk (I use 2%, but you can use whole milk for a richer taste)
1/4 lb of Butter
1/2-3/4 cup of peanut butter (optional)
1/4 tsp Salt
1 tsp Vanilla extract
3 cups of Quick Oats
How To Make Easy Chocolate Oatmeal No Bake Cookies-
Mix all the first 4 ingredients and bring to a full boil for 1-2 minutes. If the cookies boil for too long, they will harder too fast and not stay together. If the cookies are not boiled enough, they will be too soft and sometimes will not harden and will be runny. With all of that said, the boiling part is key to this recipe. I still mess this up from time to time, even after making them for years, so keep an eye on the clock but don't be discouraged if your batch doesn't turn out just right the first time.
Remove from heat and add the peanut butter (optional), salt, vanilla, and oats.
Finally, mix and spoon on to wax paper, parchment paper, or tin foil. Let the Chocolate Oatmeal No Bake Cookies harden and dry for about 30 minutes to 1 hour.  ENJOY!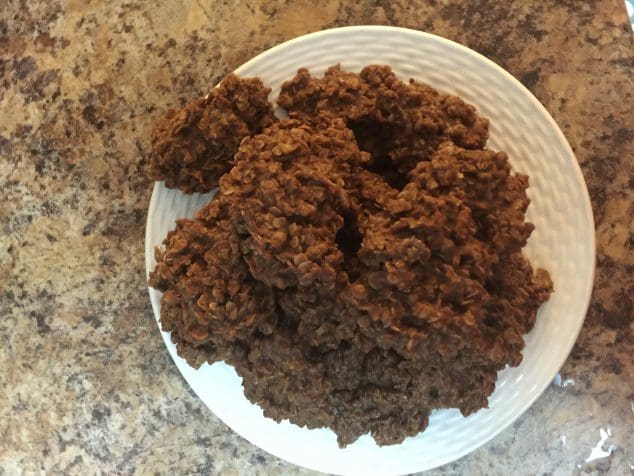 You can give these Easy Chocolate Oatmeal No Bake Cookies as gifts, bring them to parties, or just enjoy a them as an easy treat for yourself!
Much Love,
From Kori's Kitchen