I love good food and to me, that means it tastes good and is at least a little bit good for me! That is why I love this recipe for Un-Devilish Devil Dogs Cakes from Missy Chase Lapine. She is founder of the Sneaky Chef brand of foods and author of the New York Times bestseller The Sneaky Chef: Simple Strategies for Hiding Healthy Foods in Kids' Favorite Meals. She has recently release a new book, SNEAKY BLENDS: Supercharge Your Health With 100 Recipes Using the Power of Purees. The goal here is helping adults cut calories, eradicate unhealthy sugars and fats, and slim down by "sneaking" nutritious – and delicious – blends into favorite recipes. I think this Un-Devilish Devil Dogs Recipe shows just how successful she is at this.
Amazingly Delicious But Un-Devilish Devil Dogs Recipe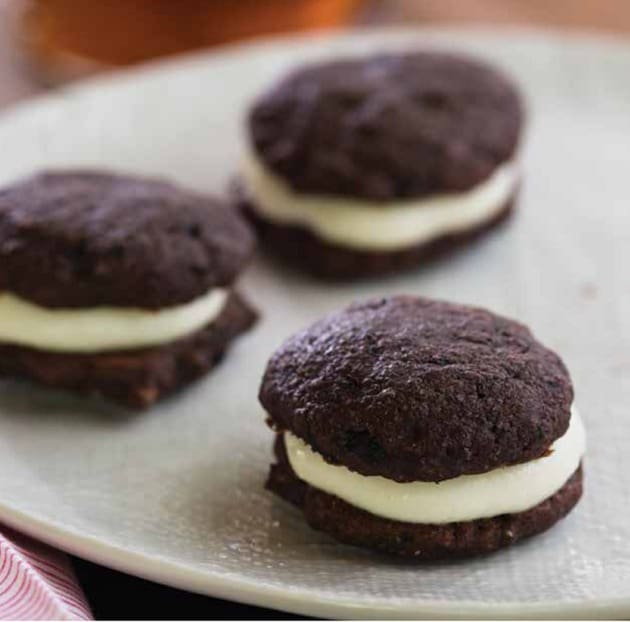 Recipe from SNEAKY BLENDS by Missy Chase Lapine. Copyright © 2016 by Missy Chase Lapine. Reprinted by permission of North Star Way, a Division of Simon & Schuster, Inc.
Makes 24 servings – Serving Size: 1 sandwich
I grew up with Devil Dogs; truth be told, they were almost a main food group for me. (If only I'd known then how devilish they really were!) The shape of these is a little different, but wow does the taste take me back. Only with my recipe, you're getting tons of antioxidants from the beets and cherries. They also have zero preservatives, unlike their million-year-shelf-life counterpart has. Note: Whole grain pastry flour is whole wheat flour that's been ground into an ultra-fine pow-der, which produces a fluffier treat—and is an excellent source of fiber. If you're stuck, use a half-and- half mix of whole wheat flour and all-purpose.
For the Un-Devilish Devil Dogs Filling:
1 1/2 cups plain low-fat Greek yogurt
2 tablespoons pure maple syrup
1 teaspoon pure vanilla extract
For the Un-Devilish Devil Dogs Cakes
2 tablespoons canola or light olive oil
1 large egg
1 teaspoon pure vanilla extract
1/4 cup Beet Base Blend (page 96) (or 3/4 cup Raspberry-Beet Base Blend [page 99], and omit the cherries)
3/4 cup frozen pitted sweet cherries, pureed with a little water
1/3 cup pure maple syrup
1/2 teaspoon sea salt
1/2 teaspoon baking soda
1 cup whole grain pastry flour
2 tablespoons unsweetened cocoa powder
1/4 teaspoon ground coffee or espresso
1 teaspoon baking powder
Make the filling first:
Place the yogurt in a strainer lined with paper towels and allow to strain over a bowl for 30 minutes to thicken. In a small bowl, whisk the strained yogurt with the maple syrup and vanilla.
Meanwhile, make the Un-Devilish Devil Dogs Cakes:
Preheat the oven to 350 degrees. Line 2 baking sheets with parchment paper. In a medium bowl, add the oil, egg, vanilla, the blend, the cherry puree, and the maple syrup. In another bowl, combine the salt, baking soda, flour, cocoa, coffee, and baking powder. Stir the dry mixture into the wet ingredients until just combined.  Drop scant teaspoons of the batter onto the baking sheets, leaving a few inches between them (try to make them rounded). Bake for about 12 minutes, or until the cakes are springy when you press the top; set aside to cool completely. Spread 1 tablespoon of the filling on one cake and top with another one to make a sandwich.
Nutrition facts (per serving): 60 calories; 2 g fat; 104 mg sodium; 10 g carbs; 1 g fiber; 5 g sugar; 2 g protein
I hope you enjoy this Un-Devilish Devil Dogs Recipe.  I just love treats like these Devil Dogs Cakes that taste amazing and look amazing while still being better for you.  These are the kinds of treats I love to give my family and myself.  Here is an affiliate link to her cookbook if you want to get more recipes that remove unneeded sugars and fats.
THE BOTTOM LINE: By cutting higher caloric ingredients out and swapping vegetable blends into beloved recipes Missy's new book will show readers how to cut more than 350 calories a day or 2500 calories per week from their diets without sacrificing flavor!
Do you think you will try this Un-Devilish Devil Dogs Recipe?