Looking for ways to keep your family close? Did you resolve to spend more quality time this year with your kids? Use the following ideas for fun family activities at home to enjoy your family time and build positive memories. And remember, the trick is not to have everything go perfectly, but to perfectly remember those special moments. Everything won't always be perfect but choosing to recall those happy memories helps to make happy families a reality.
Fun Family Activities At Home
Set Aside a Family Activity Night
There are lots of fun indoor activities kids will enjoy but you want to make sure it is a night the whole family will enjoy.  Consider setting aside one day a week just for family fun night. You can let each person in your family have a turn choosing what you will do. One child might reading together, another might want a family game night – let them each have their time to do what he or she loves most. You can also lead the way by picking your favorite family activity.
Work on a project together
Working together on a project may initially be met with moans and groans, but building memories is important – and if you make the task as enjoyable as possible – it will be remembered fondly in years to come. Let's say you have just returned from a camping trip. All moms know how much work it is to prepare for, not to mention clean up from, any time away from home. Busy moms need more help than ever. Chances are you will have loads of laundry – maybe even sleeping bags to clean and a tent to wash out. Turn it into a family project. You can have competitions to see who can fold the most laundry. You can share funny family memories as sort your laundry. You can put on your child's favorite music and hip hop your way through the job together. You will be teaching your children so many valuable things. Learning the value of work is a lesson well worth learning. Teaching them how to serve one another is priceless. You will grow closer as a family as each member learns to serve.
Use family time to foster children's interests
Foster their creativity with your family pursuits. If you have some budding authors, spend some time helping them write their first short stories. Print off copies and make books with bindings you can purchase at your local print shop. Consider making copies as gifts to the grandparents as well to let your children know how proud you are of these talents. Perhaps you have a little Einstein – or at least a tyke who would love to blow things up? Numerous science projects can be found online at family, kid and teacher sites. Many of these experiments can be conducted with supplies you have right at home. Here is just 1 simple idea for Cornstarch Goo.

Family time is fun time! There are so many great ways to spend time together as a family but here are a few of our favorite fun family activities at home.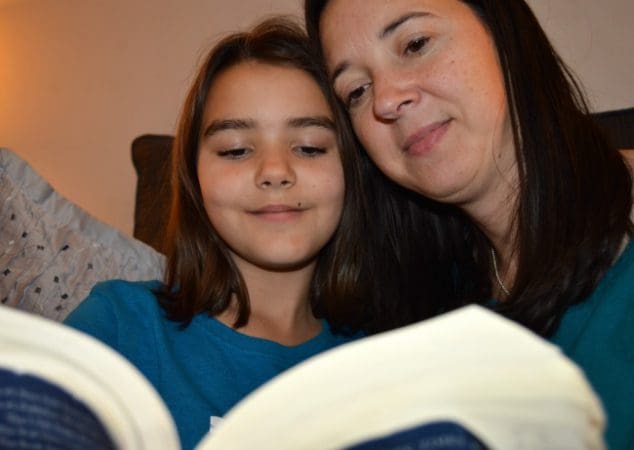 Read a book
Sometimes it is many, many books. Sometimes it is the same book over and over. Sometimes it is a chapter from a big book we are reading together. Reading never gets old. Reading is one of my favorite family time activities because it is relaxing for me.  It provides a rest from physical activity while still keeping the mind active.
Family sports
We love to play catch, soccer and football or just plain wrestle. Kids love being active. Sometimes I just referee and sometimes we all get involved.
Game Time
Another of our favorite fun family activities at home is game time.  My kids are just getting old enough to enjoy playing games all together and this is something I look forward to doing more and more! They love memory, Uno, Zimmbos, and Guess Who. Game time is a great after dinner activity to get them winding down a bit.
So many favorite fun family activities that can be done at home! Crafts and pretend games just missed my list but they are right up there too. What is one of your favorite family time activities?

Variety is the spice of life, but consistency is the key to safety. As you establish patterns of fun family activities at home, consider keeping some routines the same. Having a routine helps to create a more home-centered life and makes happier families.