While scavenging through my refrigerator and pantry for a late night snack, I came to the realization- I need to go grocery shopping again! Hungry, I tried to see if I could squeeze out a sandwich of some kind and came across cheese and bread. Then thought, "Wow, when was the last time I had a grilled cheese sandwich? It has to have been some years." As I made the classic grilled cheese with shredded cheese because I was out of sliced cheese, which mind you was very difficult, I thought of two things- how my grandmother would be laughing at me if she could see me and how she was the last person to give me a grilled cheese. They were delicious and sometimes she would add different cheese, tomatoes, and vegetables.  Later in the night, I went on the hunt to recreate that Gourmet Grilled Cheese Sandwich inspired by my grandma- Grilled Brie and Tomato Sandwich.
 Gourmet Grilled Cheese Sandwich – Grilled Brie and Tomato Sandwich Recipe:
2 slices Whole-grain bread
1 teaspoon olive oil
1/2 garlic clove, pressed
Dijon mustard
Brie cheese, sliced about 1/4 of an inch thick
1/2 cup baby arugula and spinach greens
Thick slices of ripe tomato
Makes 1 gourmet grilled cheese sandwich.
Grilled Brie and Tomato Sandwich Directions:
1. Warm your skillet, griddle pan, or grill.
2. Brush olive oil onto one side of each bread slice and evenly sprinkle pressed garlic.
3.  Spread Dijon mustard on the side of the bread without the olive oil (so that the oiled side can go straight down onto the pan).
3. To your liking, top each bread slice with brie cheese, greens, and tomato slices.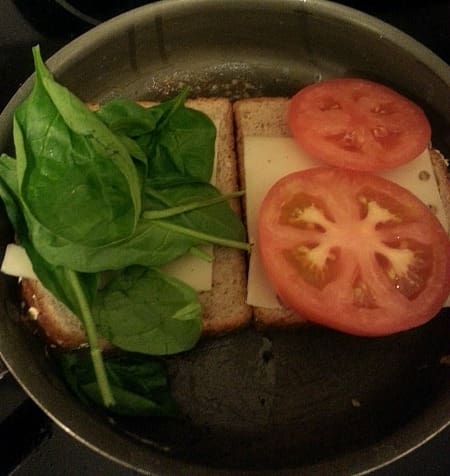 4. Place slices together and place sandwich on hot pan for about 2 minutes on each side or until cheese melts.
5.  Remove from heat and slice in half.  Serve with some chips or fresh fruit.
I hope you enjoy this grilled brie and tomato sandwich as much as I did when my grandmother made it for me.  Do you have a special gourmet grilled cheese sandwich? What is it? Who was the first person to make it for you?