With spring upon us, there's no better time to have some green-fingered fun with flowering bulbs, at the same time bringing some color into our homes.  The end of March and through into April is the best time of the year for flowering spring bulbs, with everything from fragrant Muscari – also known as grape hyacinths – through to daffodils, a crocus or two and tulips now available at pocket-money prices. And, with flowers in bud, ready to burst into colorful life, it's a great way to introduce children to the highly rewarding and fun world of gardening.
How To Get Started With Flower Bulbs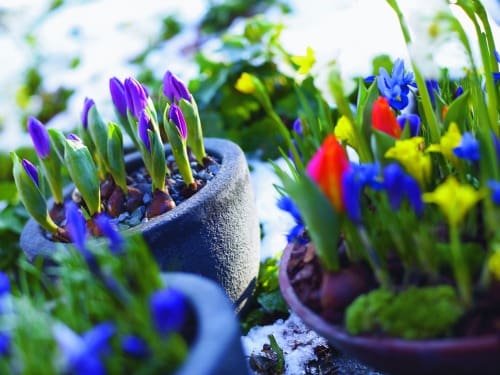 Perhaps the easiest way to start is to buy a selection of different flowering bulbs and a bag of compost from a florist shop or garden center. For an extra dimension, look for plants with a strong fragrance. Muscari, hyacinths, lily of the valley and some daffodils – most notably paperwhites – are good options and widely available.
Then the real fun begins – choosing the pots! For an colorful theme, you can arrange half a dozen different flowers together in one planter by the door. Local florist shops, home stores and garden centres will be able to help with the supply of containers in all shapes, colors and sizes. Of course, children love to decorate their own pot, so that's another option. Reach for the pens, paint and accessories such as ribbon, sisal and stickers. There's no limit to your creativity here!
When it comes to planting the bulbs, half-fill the chosen container with compost, and then carefully ease the bulbs out of their plastic pots. A good tip here is to place the stem of the flower between your middle and ring finger, with your fingers covering the soil, before turning the pot over, giving the pot a little squeeze and (hopefully) easily sliding the bulb flower out. The flowers can then be added to the container, which should be topped up with compost and gently firmed down. Add a little water but don't drown the bulbs!
Planting up spring bulbs is a simple, cost-effective way (because they come back each year) of bringing color into your garden, onto your balcony, patio or windowsill and, of course, a brilliant way to have fun and introduce children to the wonderful world of gardening.  So, perhaps, it's something you'd like to do next weekend…
What are your favorite types of flower bulbs?
Guest post by belt, Susie Ingram, who is a journalist on a mission. Constantly keeping ahead of the latest trends, a hunger for newsworthy stories and a strong dislike for people who misuse apostrophes makes Susie Francis even more determined to make the writing world a better place.