A wonderful way to celebrate the upcoming holidays and change of season is with some family crafts. As winter turns into spring, decorate your home with crafts that symbolize the warming trend and colors of spring. It's also a wonderful way to embrace history, culture, religions, as well as the holidays while educating your kids on various topics of your own choosing. There are many different spring holidays that give reason to celebrate and these family crafts will help you do just that.
Spring Craft Ideas:
Recycled Garden Craft
Photo Credit: laughpaintcreate.blogspot.com
We know the old say "April Showers Bring May Flowers", well no need to wait for the flower decorations in your home. It is a great way to start to warm up your house, brighten up the colors, and welcome in the new season. What better way to celebrate the beautiful seasons than with a crafty flower garden – made completely of recycled materials! This colorful flower "garden" is not only a craft, but a chance to talk about recycling and environmental issues with our kids. The base is made from colorful cereal boxes, the flower centers are bottle caps, straws, and any other materials you can save from the land fill.
Toilet Paper Roll Bee Craft
Here is a great idea for younger children to be able to get involved in spring crafts and also use recycled materials. This fun bee craft is made with a toilet paper roll, or cut up paper towel rolls, construction paper and crayons.
Spring Flowers Craft
For a little more sophisticated crafting, we turn to Martha Stewart for this great idea for spring bowls or baskets, that look perfect for a lovely tea setting, for a tea party. They are creatively and beautifully made with coffee filters, paper cups, paper bowls, and food coloring. The website even has an instructional video.
Chinese Lantern Craft
Photo Credit: crayola.com
Happy New Year! What? Didn't that just pass? Well there is another New Year each spring, that is Chinese New Year, or the Lunar New Year, which is celebrated in Asian cultures all around the world. The traditional Chinese lunar year falls on the first day of the first lunar month following winter solstice, so it is a different date each year based on our regular 12 month calendar. On the ancient Chinese calendar each year is designated as the year of a specific animal and this is the Year of the Snake. Here are some fun designs to celebrate the Asian holiday which offer a great way to expand your children's cultural knowledge.
A fun Chinese lantern is not only a neat craft, but makes a great decoration for the house. You can customize the lantern design for the current year, your birth year animal, or any other design you might decide on; even learn some Chinese characters for the lantern.
Purim Crafts
Purim is a Jewish holiday that commemorates the deliverance of the Jewish people in the ancient Persian Empire from destruction in the wake of a plot by Haman, a story recorded in the Biblical Book of Esther. Purim falls on different days during our regular calendar year since it is observed under the Jewish calendar, but always falls during early spring. It is celebrated by dressing up in costumes, masks and having a party, noise makers are also often used during the reading of the Megillah. With those aspects of the holiday in mind, here are some great craft ideas to help celebrate the holiday if you are Jewish, or to help you learn about it if you are not.
Photo Credit: joyofkosher.com
This craft idea will help make the Purim dinner place setting fun and festive and includes crown napkin holders and eye mask place markers. The crown napkin rings are made with metallic card stock and rhinestones. The eye mask place holders are made with colored card stock and glitter glue. These simple additions to the dinner table can be made by the kids to get them involved in the holiday decorations and will ensure a dazzling table display.
Photo Credit: hebrewpodcasts.com
Here is a craft idea for a fun noise maker, of grogger. Creativity is the main ingredient for these; made with heavy duty paper plates glued together, bells, yarn, ribbons, and then markers, gems, glitter and anything else you choose to decorate the plates.
Easter Craft Ideas:
Pinterest Image
Easter always represents pastel colors and many other representatives of spring. There are many fun craft ideas for Easter, the possibilities are endless.  With all the eggs that are made for Easter, some of the best repurposing crafts are made with the egg cartons like the cute Easter Craft egg carton chicks above or the beautiful Easter Craft Egg Carton Flower Bouquet below.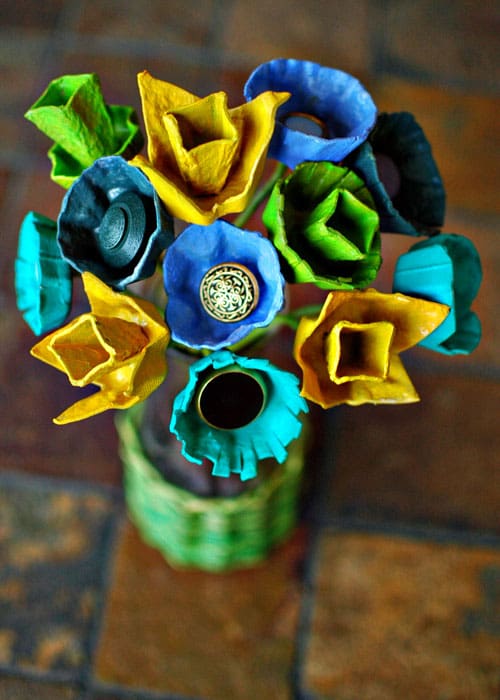 One of the iconic things that everyone uses for Easter is baskets to carry the eggs in, so that is a great idea for a craft.  This basket is made with foam sheets, glue and scissors.
Photo Credit: allfreekidscrafts.com/
I hope you enjoy these fun family craft ideas for the spring. What are some of your favorite crafts?