The colder it gets outside, the more we tend to crave hot and hearty meals, which is why fall and winter are the seasons when comfort food is at its peak. Aside from a winter jacket, nothing prepares you for cold, dreary or snowy weather like a hot meal or drink to warm up your body from the inside out. The only problem with loading up on comfort foods during the chilly months is that it can be easy to blur the line between hearty and unhealthy, so it's important to make sure your comfort recipes aren't overloaded with fat, sodium or unnecessary calories.
One of the best kinds of comfort food recipes that you can make during the colder seasons are breakfast casserole recipes. Not only are they delicious—cheesy, bubbly and filled with egg-y goodness, but they are also incredibly versatile. It's easy to use eggs and whatever kind of bread, vegetables, cheese and protein you have on hand; breakfast casseroles taste good in dozens of combinations. And while some breakfast casseroles can be unhealthy, it is very easy to tweak recipes so that they are good for you. Breakfast casseroles like this Strata also make great additions to holiday brunches.
This recipe, for a Tomato-Mushroom Strata is a great example of a healthy breakfast casserole. It's low in calories (there are only 160 calories in one serving!) because it is made with egg substitute instead of shell eggs, reduced fat cheese and skim milk. Plus, it's loaded with high-nutrient tomatoes and mushrooms. Serve it to overnight guests this holiday season or eat it before you head out into the chilly temperatures to be full and warm without feeling weighed down. Enjoy!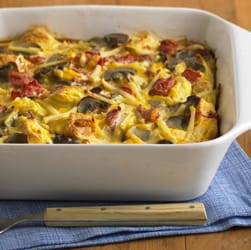 Tomato-Mushroom Strata Recipe:
Prep Time: 10 min
Total Time: 1-1/4 hours
Serves: 6
Calories per Serving: 160
Tomato-Mushroom Strata Ingredients
PAM® Original No-Stick Cooking Spray
1 16-oz carton Egg Beaters® Original
1/4 cup fat free milk
1/4 teaspoon salt
1/8 teaspoon ground black pepper
2 cups French bread cubes (1-inch cubes)
1-1/2 cups frozen hash brown potatoes, shredded style
1 14.5-oz can Hunt's® Diced Tomatoes with Basil, Garlic and Oregano, drained well
1 8-oz can sliced mushrooms, drained
1/2 cup shredded reduced fat cheddar cheese
Tomato-Mushroom Strata Directions
Preheat the oven to 375°F. Spray an 8×8-inch glass baking dish with cooking spray; set aside.
Combine Egg Beaters, milk, salt and pepper in a large bowl. Add all remaining ingredients; toss to coat.
Place mixture in a dish.
Bake for 50 minutes uncovered or until knife inserted into the center comes out clean. Remove from oven and let stand for 5 minutes.
Tip: If you don't have French bread, choose another firm, white bread, dry bread or toasted bread. If you have French bread that goes stale, wrap it up tightly, put it in the freezer and use it the next time you want to make this recipe.

Guest post by Meredith Kimelblatt writes on behalf of Egg Beaters®. Visit www.eggbeaters.com to find other healthy breakfast and dessert recipes to cook this fall and winter.