There's one thing that almost every child loves…bubbles! Blowing bubbles, bubble machines and especially bubble baths! Kids just love bubbles! Adding bubbles to your child's bath makes a plain boring bath a fun and exciting one. If you have ever looked at the back of popular bubble bath, you might be a little shocked! There are tons of ingredients for such a simple product. Lots of the ingredients are actually terrible for your child's skin and the artificial fragrances can be harmful to breathe in. But my kids love bubble baths so I was set on figuring out a recipe for a homemade natural bubble bath. I hope your child enjoys this bubble bath recipe as much as my children do!
Homemade Natural Bubble Bath Recipe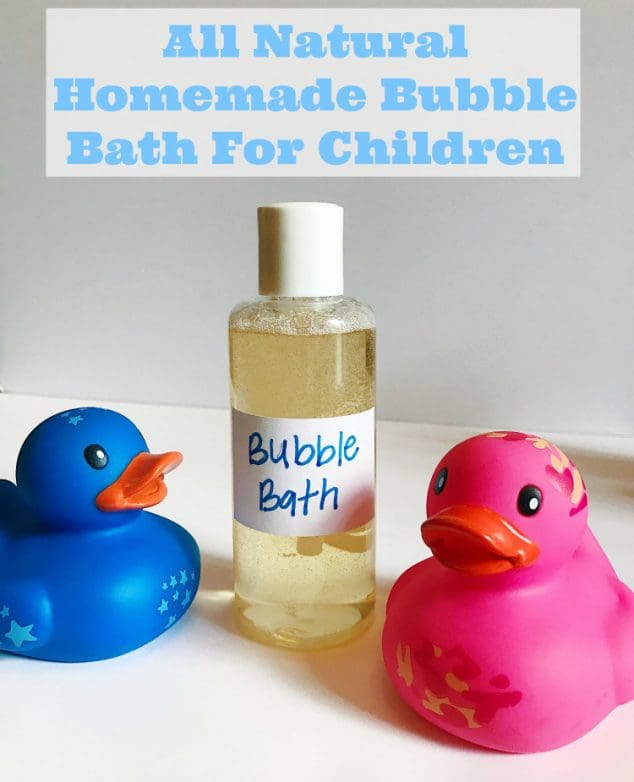 Ingredients/Supplies for your Homemade All Natural Bubble Bath:
2 cups of Castile Soap (we use Dr Bronner's Brand)
2/3 cup of Vegetable Glycerin (can be found at health food stores or on Amazon)
2 TBSP of Distilled Water
Lavender Essential Oil
Cedarwood Essential Oil
Measuring Cup
Empty Bottle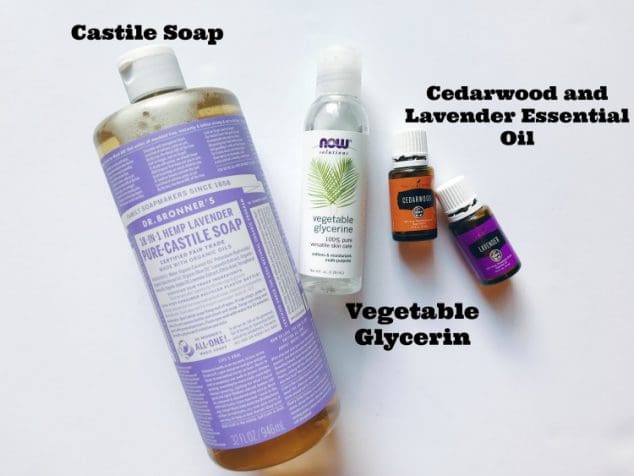 Directions for how to make Homemade All Natural Bubble Bath for Children:
Gather your homemade natural bubble bathingredients and head to the kitchen counter. Start by measuring out your Castile Soap and your distilled water. Add both to a larger measuring cup (this will make pouring into your bottle a breeze). Once those are mixed together, add your vegetable glycerin and then pour that mixture into your empty bottle.
Add 15 drops of Young Living Lavender essential oil and 15 drops of your Young Living Cedarwood essential oil. I chose these two oils because they are 1. Safe for children and 2. Calming and soothing making them perfect for a night time bath. They will help calm your child down and soothe their skin as well. Once you have added your essential oils, give a quick shake and you are ready to use! This recipe makes enough for 3-4 baths. I tend to add about 1/2 a cup to my children's bath water. You can add less or more depending on the tub size/the amount of water during their bath.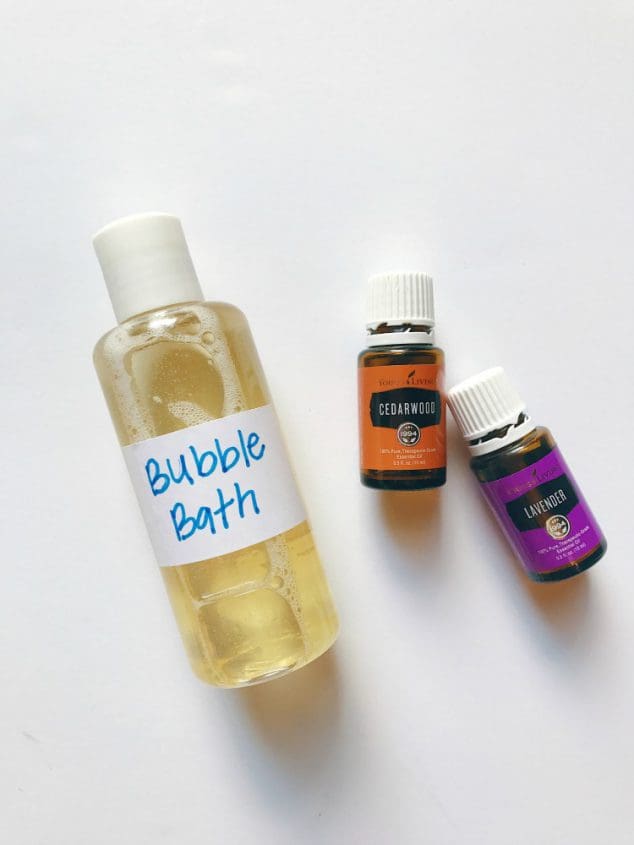 *This bubble bath will not produce huge bubbles like the ones your child likes making bubble hats and bubble beards out of. Store brand bubble baths contain certain chemicals that produce that sturdy foam, one of these being surfactants. In effort to avoid these chemicals that may be detrimental, smaller bubbles are fine with us!
I hope you like this homemade natural bubble bath recipe.  Let us know how it works for you!