Why is Sharing an Important Skill to Teach?
Childhood is the only chance parents get to make sure their children grow up into well adjusted, happy adults. During this time is when children have the opportunity to learn to understand social behavior and how to form good relationships, a huge part of which is learning to work cooperatively and empathize with others. At some point, all of this requires some form of sharing, making sharing a vitally important skill to teach children.
When to Start Teaching Kids to Share
As a child, sharing is an important aspect of making friends, having successful social interactions with peers and being successful in school. The younger the child, the more naturally self centered they will be. This makes it important to teach children sharing skills young so that bad habits don't set in and become difficult to avert. Although most children don't fully understand the concept of sharing until about three-years-old, until then it's possible to use distractions to avoid conflicts by diverting their attention away from disputed items and on to new activities.
How to Teach Kids to Share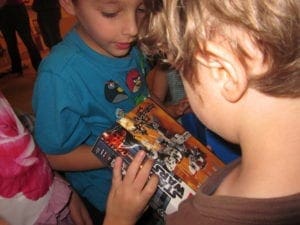 It's important to note that although sharing is an important skill, it's unrealistic to expect young children to share all their most prized possessions. Even children deserve to have their feelings and opinions respected, and a good way to show them theirs are is by allowing them a few special items which they aren't expected to share and which even adults must get the child's permission to handle. Knowing they have special items which are off limits to others will help them accept that they are required to share their other toys or items and will also help them understand why its important to respect other people's property or special items.
Teaching Sharing Skills Pays Off
As an adult it may not seem like sharing is as important a skill to have; however, it is still of vital importance, just in different ways than it was as a child. One basic example is in relationships with significant others. Often times in these relationships there are items which must be shared such as a television, a car or even the living space. Many couples have broken up over one or both people's lack of ability to share. Selfish behaviors that weren't corrected as a child and are then carried into adulthood give others the impression that they are self-centered and materialistic, and that they place the importance of things above other people. Teaching them to share as a child will help them cope and adapt to an adult life where they're expected to be more accommodating and amicable.
Teaching sharing is important because life is never going to be about just your child. Children need to accept that human beings live cooperatively and have historically survived with the help of each other. Sharing skills enrich a child's character, teach them generosity and make them likable people who are more likely to thrive in future situations. Being a good parent includes teaching children traits like kindness and sharing to ensure they have happy, successful futures because generous people make the best spouses, employees, friends and future parents.
Guest post by Briana Kelly, who has over 5 years experience writing articles and speaking about the subject of child care and early learning education. She regularly works on behalf of childcare centres in the Dublin area including giraffe.ie