Mother's Day is less than a week away! A mother's love is the best and it is a great chace to shine the spotlight back on them. Have you gotten your gift yet? Or maybe, you'd like to give your children some ideas? If you need help devising the perfect gift for the special mother in your life, I've come up with the perfect Mother's Day gift guide to help pick out the perfect present for the mother in your life!  I think you will love these mother's day gift ideas that include all the little things that make a big difference!
M-O-T-H-E-R
"M" is for the million things she gave me,
"O" means only that she's growing old,
"T" is for the tears she shed to save me,
"H" is for her heart of purest gold;
"E" is for her eyes, with love-light shining,
"R" means right, and right she'll always be,
Put them all together, they spell "MOTHER,"
A word that means the world to me.
By Howard Johnson
Mother's Day Gift Guide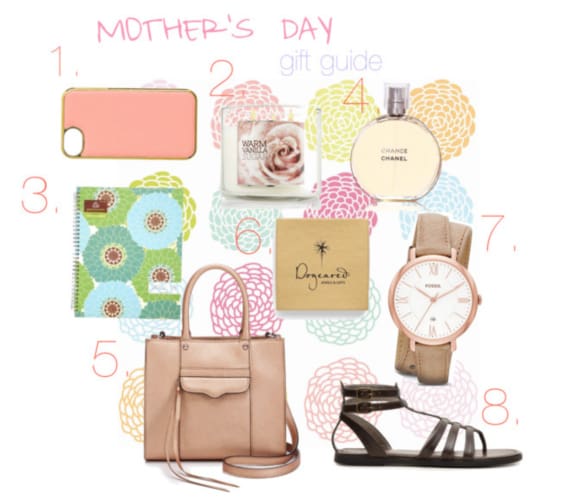 1. / 2. / 3. / 4. / 5. / 6. / 7. / 8. /
9 Mother's Day Gift Ideas
If you fell in love with any of these items, I've made it incredibly easy for you to purchase them, simply click the number above that is illustrated in the picture and it will take you to their direct link.
8 Perfect Gift Ideas For Moms:
1. Phone Case: For the technology-loving mom who loves to showcase her style via her phone, choose a polished phone case with a pop of color! It will be a huge hit this Summer she'll love to show-off! Personally, I'm in love with this design by J.Crew
2. Candles: Candles not only make your home smell auh-mazing, they add a sense of warmth and comfort to the home. Shower your mother with freshly scented candles to give her that warm and comforting feeling she gave you growing up! Choose anything from lavender to the warm vanilla sugar scent from Bath And Body Works.
3. Day-Planner: If your mom is anything like mine or me, she has to write everything down! One of my favorite gifts to get is a stylish day-planner that will easily fit in my purse, this one from Target does just that! Your mom will love not only being organized this year but she'll have something convenient and stylish that fits inside her purse.
4. Perfume: A classic, timeless gift that every mother would enjoy. So, if you are going to go classic, go with a lightly scented fragrance filled with vitality and energy much like Chanel's perfume.
5. Purse: I have yet to meet a single woman who doesn't love a purse, so in my book you can never go wrong with buying your mother a new bag to carry around this Summer!
6.  Pearls: I fell in love with this delicate freshwater pearl when I first laid eyes on it and I thought to myself, this would be the perfect gift for my sister, who is an amazing mother to my niece, as well as a wonderful gift for my own mother. The style is classy, sophisticated, and timeless. The delicate nature of the piece means you can wear it for all occasions—And it isn't too pricy at $66.00!
7. Watch: Watches are one of my favorite gifts to give. Even though we are in the age of iPhones and Androids, watches are still a staple piece in every woman's wardrobe. So, expand your mother's collection this year by buying her a stylish double wrapped leather strapped Watch with rose-gold accents by Fossil.
8. Sandals: With summer fastly approaching, buy your mother something she'll get some use out of and can show off! Fashionable gladiator or strapped sandals-whatever her style is! Pair this gift up with a manicure and pedicure at your local spa and I'm sure your mother will be talking about it all Summer long!
Another idea to complete the outfit is this DIY Perfume Summer Fragrance.
I hope you've enjoyed this Mother's Day gift guide and find the perfect gift your mother will cherish all year long.  What are you planning on getting your mother this year? Any of these gifts on your Mother's Day list? Which of these mother's day gift ideas are your favorite? Have any other ideas you'd like to share? Share with us in the comments below.
Have a wonderful Mother's Day celebrating the special mother in your life and Happy Mother's Day to all the incredible moms out there!