With the cold weather setting in, it can be tempting to huddle up in the house all winter. While quality family time can definitely be had snuggled in front of the television, it is still important to get the kids outside once in a while to enjoy some winter sports or activity. Here are some outdoor winter activities kids will enjoy and that will motivate you to bundle up and get some fresh air together as a family.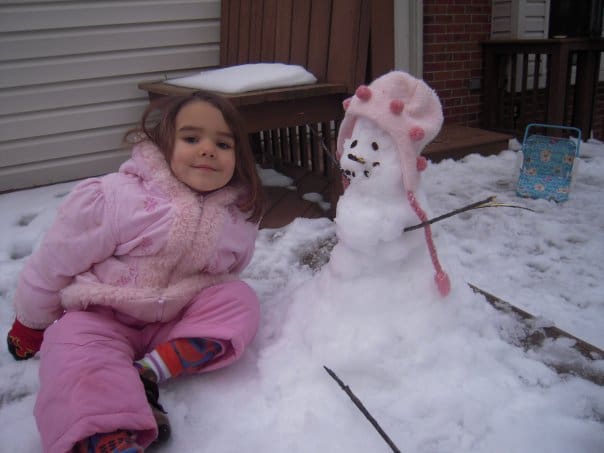 5 Outdoor Winter Activities Kids Will Love
Winter Campfire
The main appeal of the indoors during the winter is the warmth. So why not bring the warmth outside? Wrap the family in coats, hats and gloves, make a huge batch of hot chocolate, and plant yourselves in front of a nice warm fire pit. Whether you want to use the summer weather to build a fire pit, or buy a portable one, you're sure to create wonderful memories.
Ice Skating
Sometimes you want to embrace the cold weather by surrounding yourself with winter-specific activities. Ice Skating is great for this. It also gives you and the family a great form of exercise to make up for the hibernation you may be indulging in for most of the winter. The kids get to burn off some energy and learn a fun skill at the same time.  This is one of my favorite classic outdoor winter activities kids will love.
Bird Feeding
Usually we think of winter as the time that most animals hole away and birds fly south. This isn't completely true though. Not all birds are migratory, and the ones that are still around would probably appreciate some food and water during the cold season when so much has frozen over.
Look up what birds are frequent to your area in the winter and find out what food will attract them. Then teach the kids about the birds and have them keep track of sightings at your bird feeder. This can be an exciting activity, and is relatively inexpensive, especially if you make your own milk jug bird feeder. Keep in mind that you probably won't need to put out as much feed as you would in the spring or summer.
Snow Activities
If you're in an area where it snows, you probably have a love/hate relationship with the falling flakes. As children, we find snow magical, until we have to drive in it. Try to put yourself in your kids' shoes and remember the inspiration you once found in the world being covered in white. Whether it is snow shoeing, or building a snow man, try to keep the appreciation for the magic of snow alive in your children. Snow forts, sledding, and snowball fights are also great activities.
Winter Wonderland Photo Shoot
While you're making all of these winter memories, be sure to take pictures! Snow makes an excellent back drop for photos, and winter accessories such as hats and gloves can make great pictures. A long term project idea is to take a picture of your family in the same outdoor location every month and then use those photos to make a calendar for the following year.  There are all sorts of snow photo ideas!
Winter can be a wonderful time to see the world in a different light. So bundle up and get out there and enjoy these outdoor winter activities kids will love! Afterward, you can reward yourself with some hot beverages, soup, and blankets and enjoy some relaxing as a family.