For those of us observing a healthy diet and exercise regime, romantic dates aren't the only temptation when Valentine's Day comes around. My personal weakness is chocolate-covered cherries, but the list is nearly endless: fancy caramels, cocktails garnished with rose petals, or—thinking back to my single days—a tub of Rocky Road ice cream. And that's just to name a few.
While many sound eating plans, such as those found in nutritionist Isabel Del Los Rios' diet don't necessarily restrict you from consuming sweet tasting foods, it's always good to limit the amount of sugar you take in. Learning to bake something tasty and guilt-free makes staying healthy and on-track around holidays like Valentine's Day a whole lot easier.
Of course, finding a recipe for something quick, easy and good for you is no small feat. Google, "easy pie recipe" and you'll find the first page of results chock-full of Paula-esque directions, encouraging you to, "just go ahead and put a whole tub of sugar in there."
Finding a treat sweet enough to delight your loved one without throwing out everything you've worked toward for the past month at the gym shouldn't be a stressful endeavor this Valentine's Day. Do yourself a favor and skip the drug store candy isle– try this low-sugar, deliciously sweet raspberry cream pie recipe instead.
Raspberry Cream Pie Recipe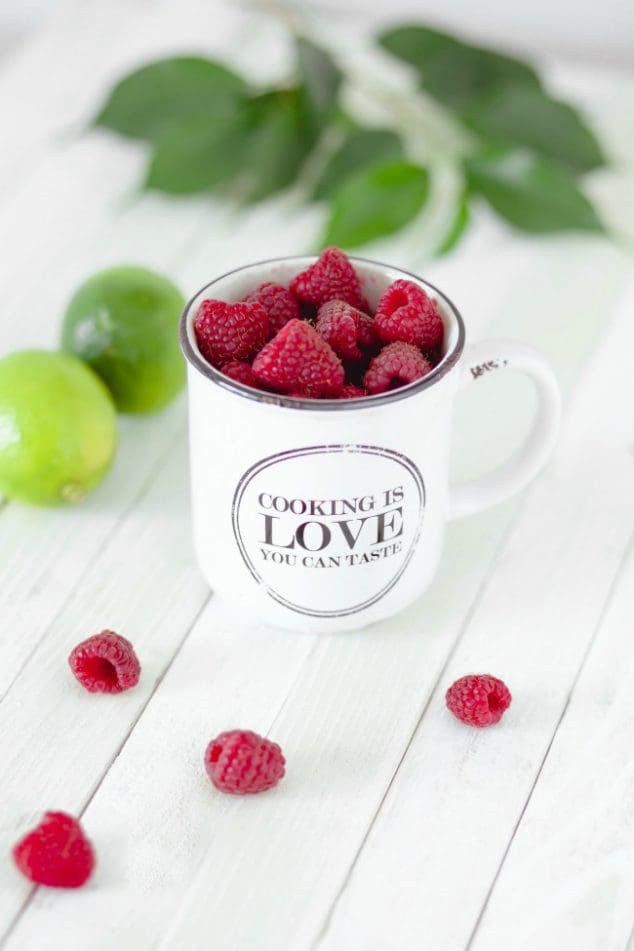 Bonus tip: Invite your sweetie over to prepare this yummy treat with you.
Guilt-Free Low-Sugar Raspberry Cream Pie
Raspberry Cream Pie Ingredients
Pie Crust Ingredients-
2 cups almond flour
2 teaspoons stevia
1/8 cup coconut oil
1/8 cup butter
Raspberry Cream Pie Recipe
Two packages cream cheese, softened
1 teaspoon vanilla
1/2 cup stevia
2 teaspoons lemon juice
1 cup heavy whipping cream
1 cup raspberries, plus additional for garnish (if desired)
Raspberry Cream Pie Instructions
As always, preheat your oven! 375 will do for this quick recipe.
You're going to want to start from the bottom and prepare your crust first so you have time to bake it while you mix together the filling.
Mix the three ingredients together in a bowl until the almond flour is thoroughly coated and sticks together nicely.
Then, press firmly into the bottom of a well-greased 9" round pie pan.
Slide that into the oven for 8-10 minutes.
Just place the crust to the side and let it cool once the 8-10 minutes are up.
For the filling of this ravishing raspberry treat, place the softened cream cheese in a large bowl and, using an electric mixer (or your valentines' strong arms), beat until light and fluffy.
Once you have a nice bowl of fluffy cream cheese, tell your other half to keep on mixing while you pour in the vanilla extract, stevia and lemon juice.
Mix thoroughly and set aside.
Grab a second bowl and whip that heavy cream until it forms heavy peaks.
Have your partner slowly spoon the whipped cream into the cream cheese mix while you stir gently.
Next, mix in your whole raspberries, pour into your crust, and pop it in the refrigerator for 4 hours.
Now, all you have to do is wait. Time for a romantic date with your Valentine while you're waiting for your dessert to cool?
Why not prepare a Valentine's Day dinner together, watch a romantic movie, go for a walk, or choose from among the endless possibilities. And whatever it is you run away to do, you'll have peace of mind knowing that the treat awaiting you at the end of your Valentine's Day celebration is healthy, free of added sugar and—most importantly!—so very delicious.
Guest post by Dr.Mike Tremba.  
About the author-
I used to think that being thin meant I was healthy-until I was hospitalized several years ago, violently ill and dangerously thin.
I found out then that I suffer from Crohn's disease– a gastrointestinal inflammatory disease that attacks the autoimmune system– and, from that moment forward, my entire life changed.
However, I wasn't about to let a disease stop me from following my dream of becoming a writer.
And I didn't.
Through a healthy diet and regular exercise, I turned my body into the best version of itself that it can possibly be, in spite of Crohn's. I'm on the career track I always dreamed of, and living a happier, healthier life than I could have imagined for myself. From NaturalWeightLossTruth.com to a host of other sites, I love providing amazing content to the publishers.