Every parent knows that making the entire family happy with one meal can sometimes be a challenge- especially with all age ranges including baby. Growing Up Gourmet, written by youth feeding expert, Jen Carlson, not only simplifies this task but makes it fun. The cookbook also includes tips and tricks on raising our children to be non-picky eaters. Growing Up Gourmet is full of simple, easy to follow recipes that use seasonal ingredients for optimum nutrition, health, and flavor. You can enjoy all kinds of recipes from Peanut Butter and Banana Hot Quinoa to Baked Salmon with Corn Salad and Asparagus. She even thinks of baby so that your baby will love sharing mealtimes with you and creating healthy eating habits that will last a lifetime. Today Jen Carlson is sharing a Spiced Pumpkin Flax Teething Biscuit Recipe with us from her book.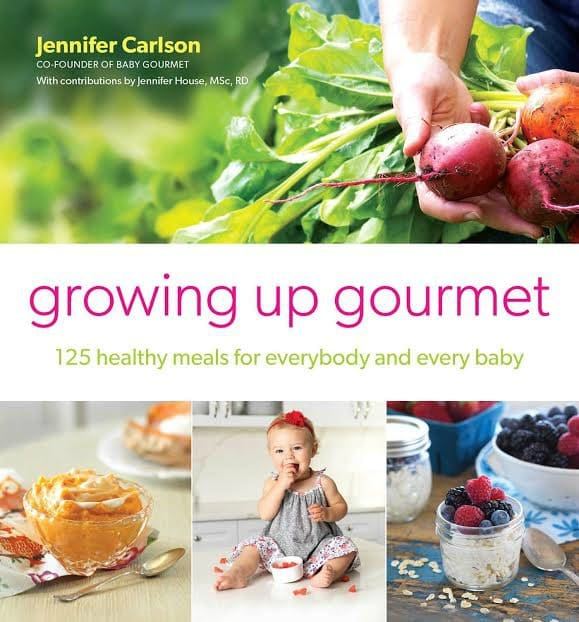 If you want to learn more about the cookbook and the delicious healthy recipes within, here is an affilate link to the cookbook on Amazon.
Spiced Pumpkin Flax Teething Biscuit Recipe: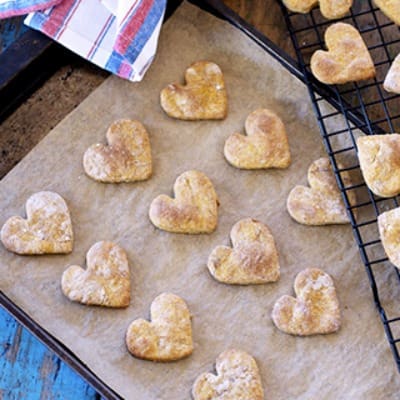 Homemade Teething Biscuit Ingredients
1 cup baby oatmeal cereal
1 cup light spelt or whole wheat flour
2 tablespoons flax meal
2 tablespoons coconut oil, melted
1⁄3 cup pumpkin puree
2 teaspoons cinnamon
6­8 tablespoons water
How To Make Homemade Teething Biscuits
Preheat the oven to 425oF. Line a baking sheet with parchment paper.
Mix all the ingredients in a medium bowl. Mix well until a dough forms. Roll out on a floured surface until 1⁄4 to 1⁄2 inch thick. Cut into shapes with a cookie cutter or cut into squares.
Place on the prepared baking sheet and bake for 15 to 18 minutes.
Let homemade teething biscuits cool completely.
Tip: Don't have pumpkin puree? Substitute pumpkin with 1 mashed banana or 1⁄3 cup applesauce or sweet potato puree.
Tidbit: Flax seeds are one of the best plant sources of omega­3 fatty acids.
Tip: Store homemade teaching biscuits for up to 1 week in an airtight container or freeze for up to 3 months.
Tip: Can make gluten­ free teething biscuits by substituting a gluten ­free flour blend.
I hope you enjoy this Spiced Pumpkin Flax Teething Biscuit Recipe.  It is sure to be a hit and you may even want to snack on one with your baby or toddler!  Do you think you will try this Spiced Pumpkin Flax Teething Biscuit Recipe?