Let's face it, most Science Fiction and Fantasy is written for an older audience. Harry Potter, The Hunger Games and others (while great work) are geared towards children who are fine with sitting down to a 900 page book. The problem is even compounded by lack of interest on the part of the child and other issues such as AD/HD.
According to the CDC:
Number of children 3-17 years of age ever diagnosed with ADHD:  5.2 million

Percent of children 3-17 years of age ever diagnosed with ADHD:  8.4%

Percent of boys 3-17 years of age ever diagnosed with ADHD: 12.0%

Percent of girls 3-17 years of age ever diagnosed with ADHD 4.7%
I did a search for Science Fiction for Struggling Readers and came up with nothing but non-fiction.  Joan Brennan has a dedicated blog for this very topic. She had better luck and came up with about 5 books for struggling readers in both Science Fiction and Fantasy. You can read her list here:
http://helpforstrugglingreaders.blogspot.com/2011/06/summer-reading-list-for-boys.html
We simply have to do better for these kids. Mass media would have us believe that we have to produce encyclopedic works of fun Science Fiction not just for kids who can't sit still but for those with flights of fancy in their veins.
A Steampunk Science Fiction Book Series Is Born
I remember sitting in my favorite chair after having this very same discussion with my wife who is a librarian. She had mentioned that she has trouble finding good Science Fiction for kids who struggled not just with comprehension but suffered from a lacking interest in reading. After two hours of scribbling ideas down on proverbial paper, my 10-year-old daughter came down and simply said, "Daddy, why don't you write a story about two kids who rescue their dad on another planet?" Now all of us were involved in the effort.  Additionally, it wasn't enough for me to create a setting in a genre that is popular at the time. I wanted something new and different. It had to be Steampunk.
What is Steampunk?
Steampunk is a sub-genre of Science Fiction where events during the industrial revolution were slightly altered. Electricity was never invented and everything runs on steam. Highly-advanced futuristic machinery such as steam-powered robots or flying machines are commonplace so you have a mixture of both past and future in one setting.
The Jupiter Chronicles: Steampunk Science Fiction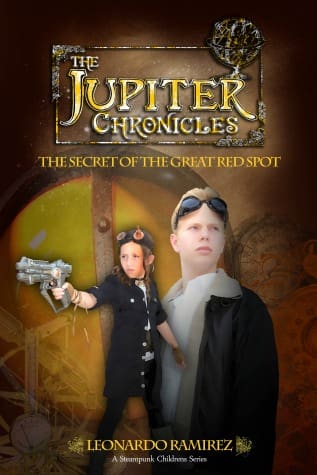 I wrote The Jupiter Chronicles to help satisfy the need for short Science Fiction works that are good for beginner readers and struggling readers.   After the book released it was then time to experiment. One of the fun tools we employed to get kids reading was Readers' Theater at my wife's school. They sure had a blast. We also talked about writing ideas down for a story and creating interesting characters. And yes, there were plenty of special effects. After I left, I learned that kids who normally aren't interested in reading came in to the library begging for the book. The experiment worked. Kids with a low attention span have been reading The Jupiter Chronicles and wanting more.  As an author, that's all I can ask for.
What do you love about Science Fiction books?
Guest post by Leonardo Ramirez who is an author of Science Fiction and Fantasy. Visit Leonardoverse: Science Fiction for the Human Condition for more info. You can also get a copy of The Jupiter Chronicles on Amazon.