Terry Walters is a best-selling author and one of the original leaders of the clean-eating movement. That is why I am so excited that she is sharing a recipe with us today that makes eating healthy delicious and easy! Terry's new version of her best-selling cookbook CLEAN FOOD, has tons of new information resources and recipes, as well as a new chapter dedicated to CLEAN SNACKING (perfect for busy moms &kids.) Terry make a habit of sharing recipes with seasonal food that will delight the taste buds, strengthen immunity, clear skin, and improve sleep, and so much more.
When I prepare dinner , I try to make sure there's something for everyone. This Sweet Potato, Corn and Kale Chowder accomplishes that in one pot and is a colorful variation on an old favorite. It cooks up quickly and provides a balanced meal rich in nutrients all in one satisfying bowl.
Clean Eating Recipe:  Sweet Potato Kale Chowder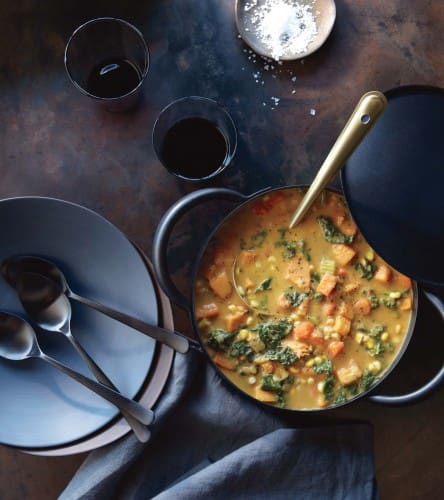 This healthy chowder cooks up quickly and provides a balanced meal rich in nutrients.
Sweet Potato, Corn and Kale Chowder Recipe Ingredients
1 tablespoon grapeseed oil
1 small onion, diced
3 stalks celery, diced
3 carrots, diced
3 medium sweet potatoes, peeled and diced
3 cups corn, fresh or frozen
2 teaspoons dried thyme
2 cups vegetable stock
2 cups rice milk, plus more if needed
2 tablespoons cashew butter, dissolved in
1⁄4 cup hot water
1 bunch kale, chopped into small pieces
Water or stock as needed
Sea salt and freshly ground black pepper
Sweet Potato, Corn and Kale Chowder Recipe Instructions
In large pot over medium heat, sauté onion in oil until soft (about 3 minutes).
Add celery, carrots, sweet potatoes, corn, thyme and stock and simmer 5 minutes.
Add enough rice milk to cover the vegetables.
Bring to boil, reduce heat and simmer until vegetables are soft (about 20 minutes).
Remove from heat and add dissolved cashew butter.
Partially purée using a handheld blender.
Add kale, return to heat, thin with water or stock to achieve desired consistency and cook until kale is tender.
Season to taste with salt and pepper and serve.
I hope you enjoy this sweet potato kale chowder! What other clean eating recipes do you enjoy?
Guest post by best-selling author Terry Walters, who is a well-known holistic health counselor, food educator, and motivational speaker.