Looking to do a little Easter treat preparation. Maybe you're used to buying one of those store-filled baskets from Walgreens or maybe you fill it up yourself with lots of goodies from the special Easter isle, but sometimes it can be fun to take a couple of extra creative liberties when making Easter baskets for your kiddos. If you're a family who practices the vegan lifestyle or if you're just searching for healthier goodies for your children this holiday, then this is a good place to start! Jot down some of these recipes to try out over the next month. Save the ones you love for the big day and beyond!
6 Vegan Easter Basket Stuffers:
Vegan Carrot Cake Cupcake from Fit Sugar
What's a bunny's favorite treat? Carrots! Well, that's just perfect. Here's a traditional carrot cupcake surprise this Easter with half the calories and sugar that will fit great in your DIY Easter basket.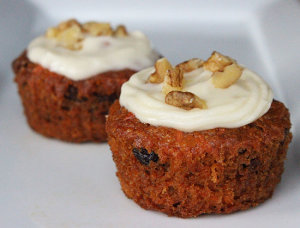 Vegan Cadbury Creme Eggs from Veg Web
My favorite part of the Easter season is always the Cadbury Creme Eggs. It's lovely to find a vegan recipe that recreates my favorite childhood treat.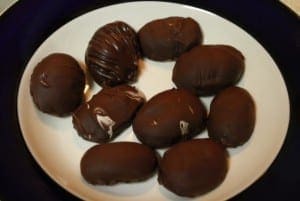 Vegan Peeps from Sweet and Sara
Another childhood fave – Peeps! No recipe here but these 5 star rated Vegan Peeps are available for purchase at the link for $5 per 2 ounces.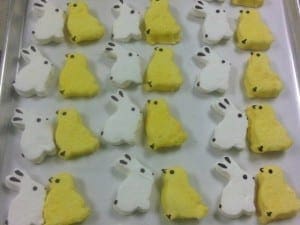 Vegan Nutty Butter Candy from And I Love It Too
Mmm this recipe includes delicious almond butter and vegan chocolate chips. Try out this recipe WITH the kids and have a fun day creating your own special Easter treats.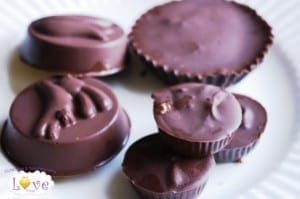 Easter Egg Sugar Cookies from aliensdayout.com
Sugar cookies are a given for sugary treat options! These are also a good way to add lovely color to your Easter basket.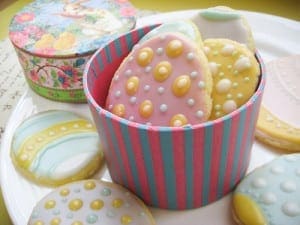 As a final suggestion for Vegan Easter treats, check out Peta's list of vegan candies. These are not necessarily healthy sweets, but they are totally animal-friendly!  What are your favorite vegan sweets to use for vegan Easter basket stuffers?