My daughter loves to read. She reads all the time. She has read the Harry Potter series twice through and now she is on the tenth book of Wheel of Time. But when I asked if she would like to take a writing workshop at her school, she said, "No. I like reading not writing." I wondered how I could get her more interested in writing. Then I discovered Lulu Jr Bookmaking Kits! Could the lure of making her very own hardcover book work to make her want to write? Yes! She loved that idea! Thanks to the Lulu Jr folks for providing the My Awesome Book book making kit for her to try out and to facilitate this review. I am so happy to have this keepsake of my child writing and illustrating her own book.
Kids Can Illustrate and Write Their Own Hardcover Book With Book Making Kits From Lulu Jr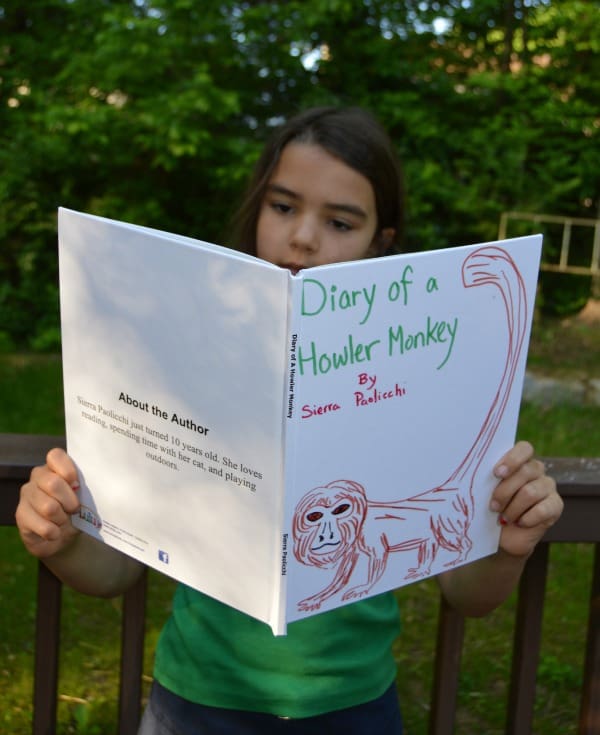 My daughter tried out the award winning My Awesome Book book making kit. She received a My Awesome Book box and inside the box was ready-to-use book pages (with space for drawing and lines for writing), markers, a postage-paid envelope (for mailing the pages back to be made into a book), The "Quick Start Guide", and instructions. The book making kit is recommended for ages 6 and up. The final product hardcover book that they mail back to you with your child's artwork and story is 8 ½ x 11.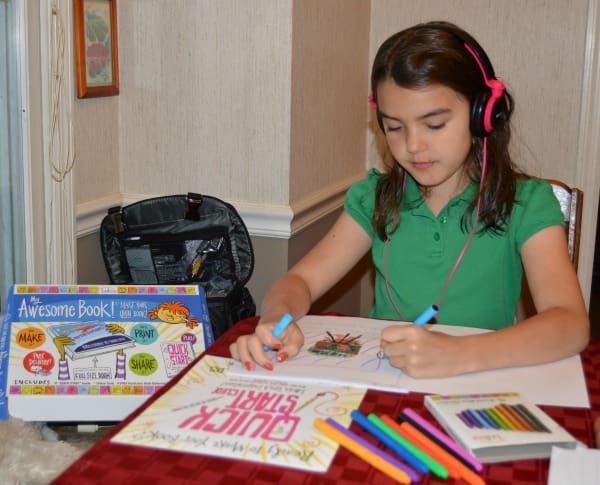 The "Quick Start Guide", written by New York Times bestselling children's author and illustrator Peter H. Reynolds, is full of ideas, tips, and inspiration to get your child's imagination moving and help them get started. The instructions were easy to follow. She drew the pictures and wrote the story and I filled in the instructions page with the information that they needed for the printed version such as the dedication page and the about the author section. Then we just dropped the manuscript in the pre-paid envelope and mailed it off. A few weeks later, a box arrived address to my daughter.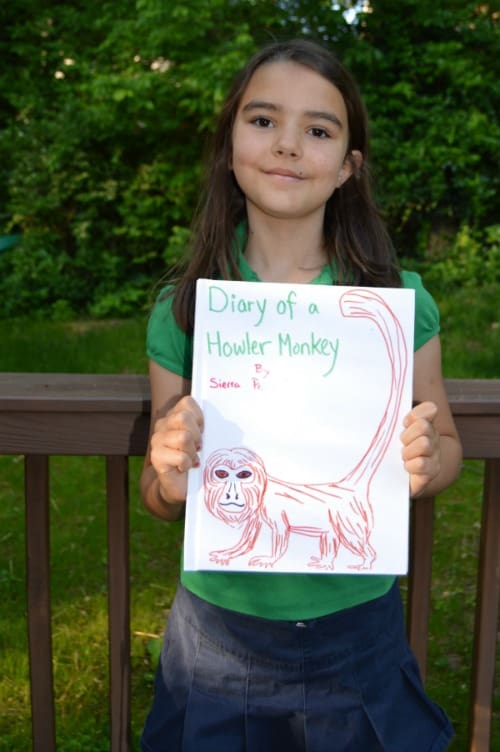 It was perfect timing because my daughter was feeling down that day that a friend of hers had moved. When I saw the box, I hoped it would cheer her up and it sure did. She had a huge smile on here face when she saw what was inside! She was very happy to see it and read her book to herself. Her little brother was very impressed and he is working on writing his own book now (slowly but surely). He also loves to read here book and who wouldn't?! It is a really funny book about the diary of a howler monkey.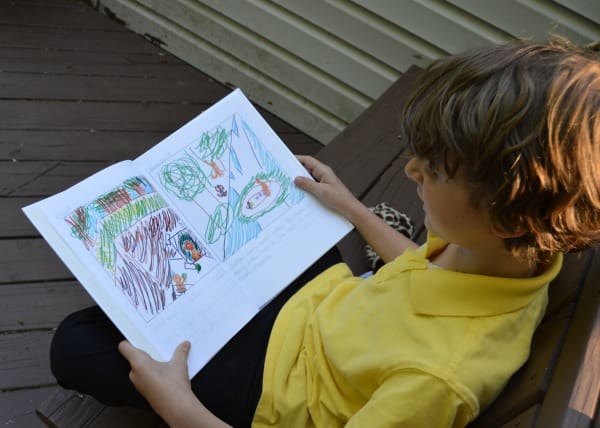 I am so pleased that she got the exercise of writing and I hope she will enjoy writing more now, even when it is not turned into a hardback book! I think that seeing how proud her father and I are of her writing is bound to make her enjoy it more. I am also happy to have this keepsake book of her creation that her kids will be able to read one day!
You can learn more or order your own Lulu Jr bookmaking kit at lulujr.com
Lulu JR Promotional Codes
Myreaders can get 30% off any Lulu Jr book-making kit!  Just use promotional code 30LULUJR which expires on June 20, 2015 when you check-out through Amazon at this link:
amzn.to/1H27BDd.
LuLu Jr Book Making Kit Giveaway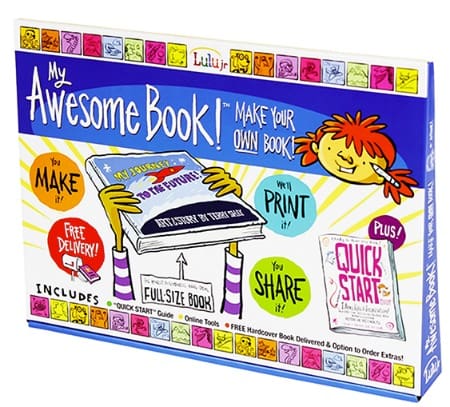 One lucky reader will win one Lulu Jr book making kit of their choice up to a $39.99 value. Turn your child's imagination into a premium size story book. Includes "Quick Start Guide" full of tips, ideas and inspiration!
Giveaway Dates: May 7- 25, 2015 Midnight CST
How to Enter: Enter through Giveaway Tools- just sign into the widget and click the entries you want to complete (leave comment, share, or follow).
Giveaway Announcement:
Winner announced above in the Giveaway Tools widget on May 26, 2015. Winner will be selected through Giveaway Tools and I will notify by email. Winner must respond within 4 days or the prize will be forfeited and alternate winner will be chosen. Your email will not be shown and will be kept private.
The award winning My Awesome Book book making kit makes it easy for your child to write her own book and have it turned into a real hardcover book.  I hope you enjoyed learning more about these awesome bookmaking kits. I think they make a great gift. Does your child like to write? Do you think your child would enjoy writing and illustrating their own book?