Bedroom makeovers don't have to be budget busters. You can create your dream bedroom by using your existing furniture and incorporating five simple bedroom decorating ideas on a budget. Before you begin your bedroom redecoration project, declutter the room and sell or donate excess items, leaving room for your new design elements to become the room's focal points.
Impactful and Easy Bedroom Decorating Ideas On A Budget
Accentuate Your Space
If you bedroom is lacking in visual appeal, but you don't want to repaint the entire space, consider an accent wall or other small DIY paint projects. Locate the area in your room where you eye is naturally attracted, keeping in mind that in a bedroom, this wall is normally the one with the headboard. Next, select and apply a different shade of paint from the color currently on the walls or choose an entirely different, but complementary paint color that will highlight pops of color present in your bedding or decor.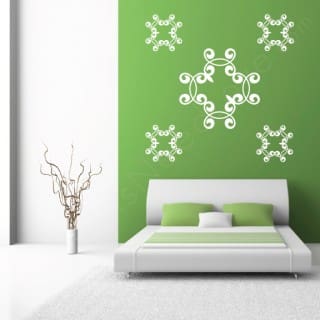 Refresh Your Linens
One of the easiest bedroom decorating ideas on a budget? Selecting new linens for your bed will often transform your bedroom more than any other update or change. Purchase luxurious white sheeting from your local warehouse club or discount retailer at a cost a fraction of department store prices. Remove your existing duvet cover to reveal your pristine white duvet and use alongside your new white sheets. Purchase or sew accenting shams or throw pillows and try out several different pillow arrangements. Top off your hotel luxe look by adding a colorful, folded throw or quilt to the end of the bed.
Display Your Style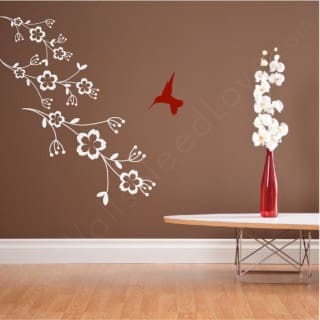 Removable, easy-to-apply wall decals add instant style and interest to a wall. Decals, which are also known as vinyl wall art or wall stickers, are available in a variety of styles, colors, designs, and sizes, can be applied to walls in minutes, and do not damage painted walls or require the use of nails. The area above a bed is the perfect spot for your monogram in decal form, a three or four piece panel decal featuring a modern take on a tree or natural scene, or even a headboard decal. The space above bedside tables and dressers, which often present design dilemmas, are perfect areas for decals such as shapes and geometric designs, floral designs, or wall quotes. Once you set out to find the perfect decal, you may find yourself decorating your entire space around your favorite design!
Update Your Lighting
Sill want more bedroom decorating ideas on a budget? Tired lamps can give your bedroom a dated feel. Simply changing lampshades or updating lighting can often breathe life into existing lamp bases; simply visit your local home improvement store or closeout retailer for affordable, stylish lamp shades. Don't be afraid to select different lamp shades in coordinating styles and colors in order to provide dimension and personality to your retreat. If you are the DIY-type, recover your own lampshade with unique drapery fabric of your choice.
Create a Vintage Mirror
For an interesting piece of wall art, make a vintage mirror using a framed decorative style mirror from your thrift store or flea market. Remove the cardboard backing from the mirror and carefully place the mirror face down on newsprint. Wearing appropriate eye protection, safety mask and gloves, spray the mirror back with paint stripper and carefully remove the painted backing with a plastic putty knife, exposing the mirror's reflective backing. Clean the surface with a damp rag and dry with a clean rag. Next, lightly spray muriatic acid a few times along the edges of the mirror's reflective backing. After the glass becomes see-through in spots where sprayed (about one minute), carefully blot the entire surface with a dry cotton cloth to stop the antiquing process. Spray the mirror back with a coat of antique gold spray paint, allow the paint to dry, and then place and secure the mirror and cardboard backing in the frame. Select a place with empty wall space, such as above a chair, dresser, or side table, and hang the mirror. HGTV offers detailed instructions for how to antique a mirror if you prefer.
If you purchase supplies ahead of time, you can easily complete your bedroom makeover in a weekend. Even if you only incorporate a few of these bedroom decorating ideas on a budget, you are sure to improve your bedroom. Enjoy your new bedroom retreat knowing that it didn't cost a small fortune in time or money!
You may also enjoy these Family Room Decorating Ideas.