Go green all year long!  Sometimes, at holidays people find it hard to be green because they are so used to family traditions.  Here are some eco- friendly Halloween Ideas to make into new family traditions!
Eco-Friendly Halloween Décor:
· Shop at local farmer's markets for gourds, pumpkins, cornstalks, hay bales & Indian corn bunches
· Re-purpose old sheets, shirts, pants to help dress your scarecrows or for costumes
From @bantedesign
Thrift stores are always full of preowned Halloween items and really, all you need is a bunch of preowned black and orange material to turn anything into an eco friendly Halloween decoration. I also have to
mention one of the most memorable Halloween parties I went to as a kid was at my elementary school when I reached into a box of human brains (leftover school lunch spaghetti).
From @stayvocal
Eco-Friendly Halloween Cards: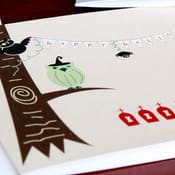 Artistry Cards are printed on 100% recycled stock with printing methods that are designed to reduce paper wastage and they donate a percentage to Kiva to help entrepreneurs in developing countries.
Start by selecting the lowest Carbon Foot Print Halloween Eco Friendly Party e-invitations with an Eco-twist.
Eco-Friendly Halloween Candy Alternatives:
"Magic Beans." Parents can get a pack of organic beans or pumpkin seeds from their local garden store. Then, they print out a post-card size story about Jack in the Beanstalk along with a few beans and instructions on how to grow the beans. The kids can then plant the seeds in cups at home and watch them grow.
from HealthyHalloweenHouse.org
Buy a big bag of crocus or daffodil bulbs, wrap each one in a bit of tissue paper and include a note that tells how to plant it, and to look for the flower in the Spring!
from PicPocketBooks
This Halloween, children, organizations, and businesses across the U.S. will help children forced to labor on African cocoa farms by participating in the 5th annual "Reverse Trick-or-Treating" campaign. By handing out informational cards along with organic, Fair Trade chocolates from West Bridgewater, MA-based Equal
Exchange when they go trick-or-treating, participants bring attention to the thousands of children who have been trafficked and forced to work in exploitative conditions on West African cocoa farms.
Eco-Friendly Halloween Party Items:
Perfect for eco-friendly parties and events, palm leaf plates from MarxFoods.com  These biodegradable plates are a natural and renewable resource. Naturally discarded sheaths of the leaves of the Adaka palm tree are collected from the forest floor. No trees are cut down. The plates and the disposable cutlery are even compostable!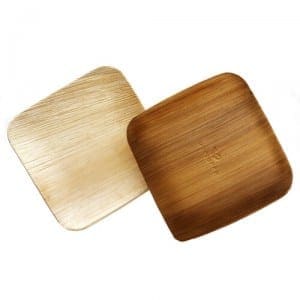 VerTerra Dinnerware – Environmentally-friendly plates, bowls and serving dishes are made only from two products: fallen leaves and water.  Sustainable convenience for every occasion. Verterra's environmentally-friendly products are non-toxic, biodegradable, compostable, durable, lightweight, convenient and downright stylish making them a chic, all-natural choice for party-ready dinnerware.
Eco-Friendly Halloween Costumes:
This Halloween, help save money, closet space and the environment by making your own Sid the Science Kid costume! Most of the materials are compostable and reusable, and can be found in your kid's closet or your local craft and clothing stores.

1. Start with a red hoodie, blue pants or jeans and red sneakers (the outfit can be re-worn after Halloween).
2. If a colored wig is too much for your little scientist, you could try creating Sid's hair by using some thick lavender-colored yarn in organic/biodegradable varieties.
3. Cut the yarn in long lengths that can reach ear to ear over your child's head. Cut enough pieces to cover your child's head. Use a shorter piece of yarn to tie all the pieces together in the middle.
4. Fasten your Sid "wig" to your child's head using hair clips or bobby pinsMake y and trim the bangs as needed so your child can see.
5. Be sure to color your child's nose orange, just like Sid!
An eco-friendly way to shop for Halloween costumes this year.  Catalog Spree is a FREE catalog shopping app for the iPad, which allows users to browse, search, discover and BUY from over 30+ catalog partners with the touch of a finger. Catalog Spree estimates that in 2010, more than 22.5 million trees were consumed to print the 20 billion catalogs mailed in the U.S. alone, enough to circle the Earth 133 times if they were stacked end-to-end.   This Halloween, costumers can take advantage of this fun, easy and eco-friendly way to shop for costumes with Catalog Spree.
What's scarier than a ghoulish ghost on Halloween? The amount of harsh chemicals found in children's face paints! A study conducted by The Campaign for Safe Cosmetics found that 10 out of 10 children's face paints tested contained levels of lead, and many others contained misleading claims such as "hypoallergenic."
Dr. Sears Family Essentials suggests you keep your kids safe from harsh chemicals and skin allergens by making your own eco-friendly and all natural face paint at home:
Mix 1-2 teaspoons of Dr. Sears Family Essentials Diaper Rash Cream, 1-2 drops of natural food coloring and about a teaspoon of cornstarch, and you have a fun and family-friendly costume cosmetic!
Eco-Friendly Halloween Crafts:
Instead of buying new Trick or Treat bags, why not spend a day with the kids decorating used pillow cases to make unique and green goodie bags.
Idea from StayVocal ReUse Aparrel
Here is a fun craft you and your kids can do to reuse paper scraps and make your own Halloween decorations.  Halloween Paper Mosaics
Eco-Friendly Halloween Treats:

Milk Chocolate Rainbow Drops are the only better-for-you chocolate non-GMO candy free of both food dye and titanium dioxide. The new Rainbow Drops are colored with vegetable juice and are made with premium milk chocolate, real vanilla and pure cane sugar.   Great for putting into bowls at Halloween parties.
Orange Spiced Cider Cocktail Recipe
1 Eco-friendly Numi Orange Spice Tea Bag
8 oz. Apple Cider
2 oz. Ron Abuelo Añejo rum
Heat Cider until very hot. Steep 1 Tea Bag directly in Cider for 5 minutes, covered. Uncover, add Rum and stir. Garnish with Cinnamon Stick.
Sweet Potato Date Pecan Bread
This recipe is scrumptious, easy to replicate, family friendly and eco-friendly because it is free from animal products.
Surf Sweets Snack Pack multi-packs of Gummy Bears and Sour Berry Bears are the perfect addition to a Green Halloween celebration because they're made from organic and natural ingredients without any artificial colors, flavors or GMOs. Also, Surf Sweets organic ingredients are free of harsh chemicals and pesticides and are grown in an earth-friendly, sustainable manner.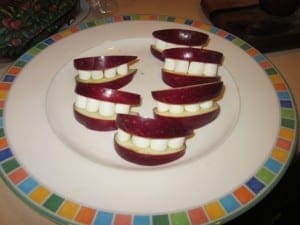 Make these fun Ghoulish Grin Snacks!
Instead of buying individually wrapped snacks, just slice some organic apples and insert little marshmallows between the slices to get a fun ghoulish grin!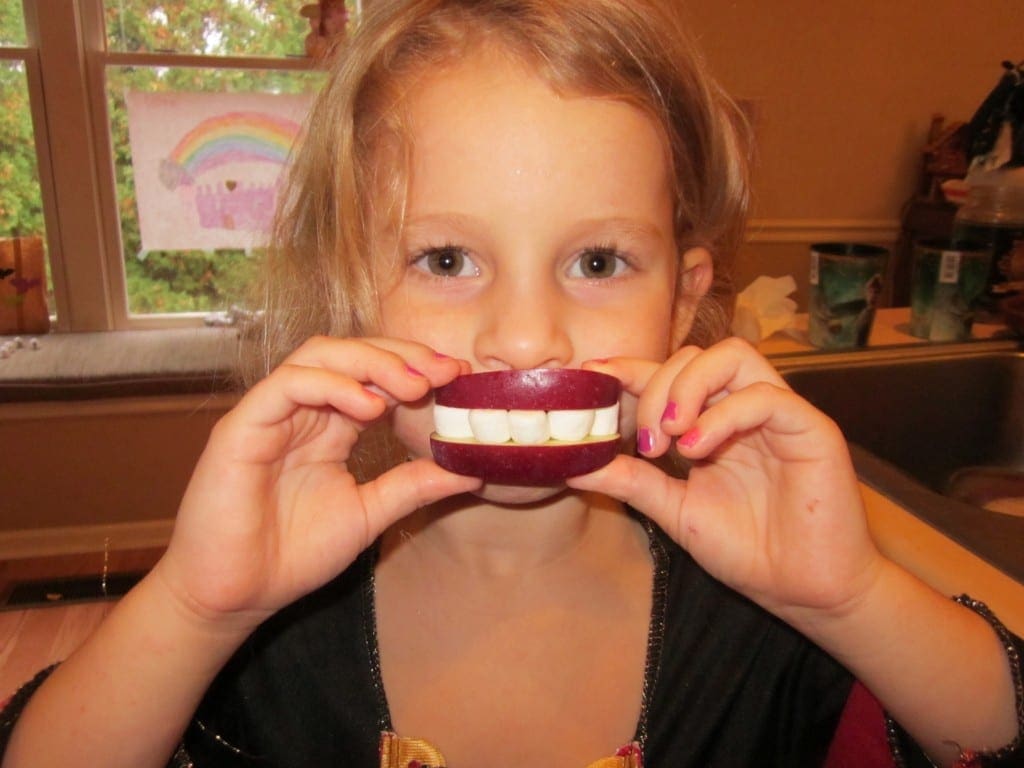 Have some Green Halloween Treat Ideas of your own?
I'd love to hear them!