It is an obvious phenomena that kids will be extremely hungry when they come back home from school. They will definitely need something to snack on as they wait for dinner. It is thus important as a caring parent to watch and control their eating habits. Ensure that they eat light and healthy.  There are a range of choices that a child can choose snacks from. If allowed they would jump for the soda and sugary cookies and biscuits, a behavior pattern you do not want to encourage.  It is important to teach your kids how to make healthy choices without making it seem like a punishment. This is easily achieved especially if, as a parent, you lead by example. Snack on a healthy bite and your kid tends to imitate exactly what you do.  Here are 3 healthy snacks for kids after school (or anytime).
5 Healthy Snacks For For Kids After School
1.    Fruits slices with a dip.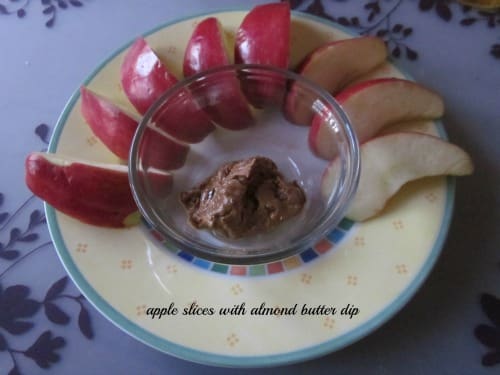 Make it interesting and attractive for your kids and they will enjoy taking the fruit that they may otherwise turn down. An example that works is slicing apples on a plate and beside it, provide a nut whether it is peanut, almond or any other nut butter that your kids prefer.
2.    Fruit salads and puddings.
The combination of different fruits chopped together in a nice bowl is always appealing. As a parent you know what fruit your children love and those which they fancy less.  Sprinkling an assortment of fruit over a little pudding is a surefire way to watch it all disappear. If your kids are more adventurous, try grilled peach spinach salad!
3.  Freshly squeezed juice.
Kids will arrive from school thirsty for a drink. Discourage consumption of drinks that have empty calories and no value to the body.  Instead, offer them some freshly squeezed juice which is full of nutrients.  You can squeeze citrus by hand or if you have a juicer, there is no end to the limit of fresh juices that you can make and flavor combinations you can create when you start juicing.
4.  Yogurts.
Yogurt is another option for the after school snacks but is only suggested if dinner is not any time soon.  Consider making your own yogurt and you may want to sprinkle a little granola over the top.
5. Eggs.
Again, this is a more filling snack and not so great if dinner is close by, but eggs are a great snack. You can boil them and peel them, make them into deviled eggs, or serve them as a fried egg sandwich.
My kids also love this recipe for cucumber sandwiches.  I bet they'd enjoy some easy healthy frozen snacks to cool off too. It is important to train your kids properly as far as eating habits are concerned. Do not give them foods that are rich in energy close to dinner time for it will only interfere with their appetites. Also avoid greasy foods like fries for they only build up excess fat.  What are your favorite healthy snacks for kids?