I am excited to tell y'all about the 2016 Eggland's Best "America's Best Recipe" Contest that is going on right now. The Eggland's Best information, coupons, gift card, and additional gift pack have been provided by Eggland's Best. Until April 29, Eggland's Best will be accepting entries for "America's Best Recipe" Contest on the Eggland's Best website. One Grand Prize winner will receive $10,000 and a year's supply of Eggland's Best eggs! Pretty sweet, plus, additional prizes will be awarded to Best in Region and Best in State!  I'm going to enter my Pimento Cheese Deviled Eggs Recipe.
2016 Eggland's Best "America's Best Recipe" Contest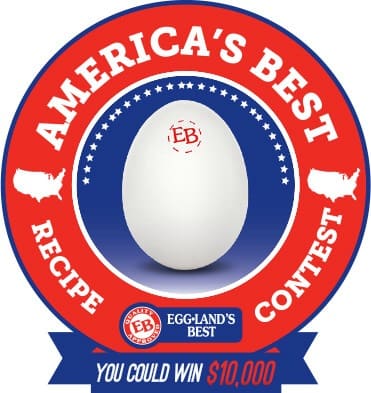 You can visit the Eggland's Best website to find more information about the 2016 Eggland's Best "America's Best Recipe" Contest and enter at: http://www.egglandsbest.com/americasbestrecipe. I am excited to enter myself and I have been coming up with some fun ideas for a recipe that incorporates both EB eggs and regional favorite ingredients. I live in Nashville so I decided to represent with some local favs- pimiento cheese, deviled eggs, and pulled pork. I rolled those all up into one to present you with Pulled Pork Pimento Cheese Deviled Eggs. Now if that isn't Southern, I don't know what is! How will you integrate a locally-sourced ingredient to show your state or regional pride?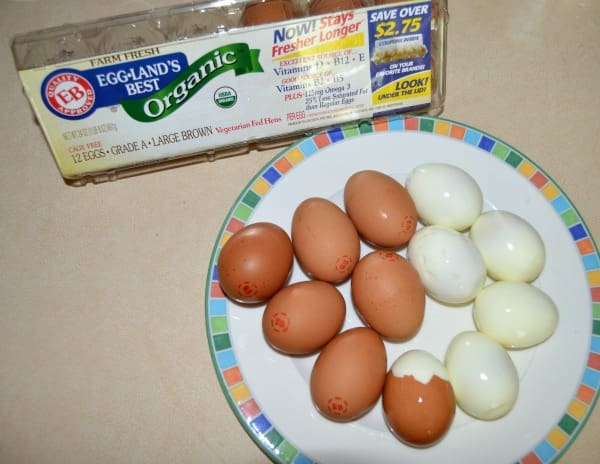 Why I Use Eggland Best Organic Eggs:
I grew up eating farm fresh eggs that my grandmother raised and I appreciate a good egg. I can see the difference and taste the difference in the yolk.
100% USDA Organic Certified (very important to me)
The hen feed is Certified Organic, All-Vegetarian
Cage Free (very important to me)
Compared to ordinary eggs, each

Eggland

's

Best

egg

offers four times more vitamin D, more than double the omega-3s, and contains 25% less saturated fat.
Excellent Source of Vitamins D, B12, E
Good Source of Vitamins B2, B5
See more product specifics at egglandsbest.com
Pulled Pork Pimento Cheese Deviled Eggs Recipe: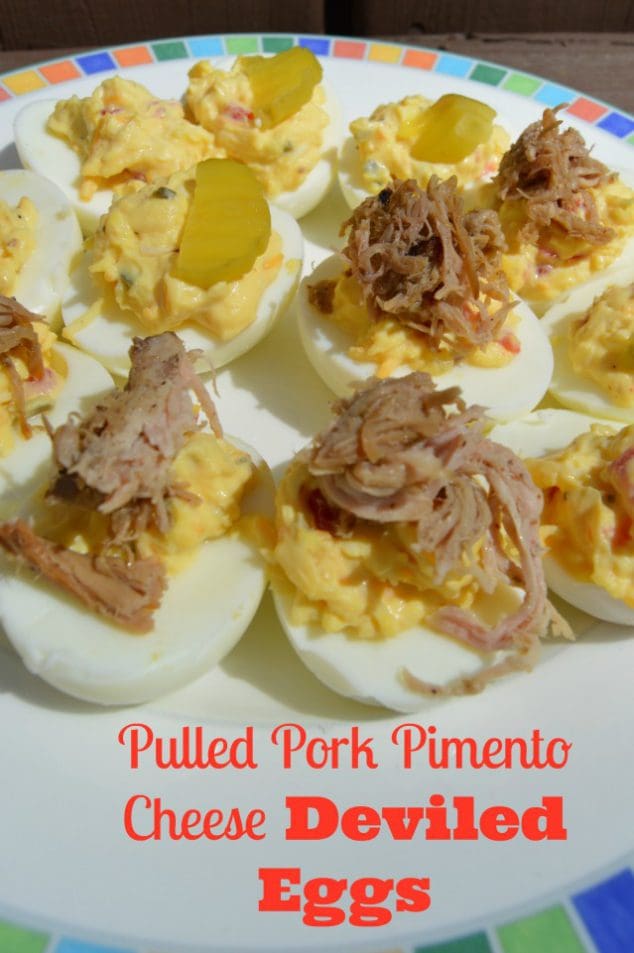 Prep: 10 minutes
Cook: 10 minutes
Yield: 24 deviled egg halves
Pulled Pork Pimento Cheese Deviled Eggs Ingredients:
12 organic free range eggs
1/3 cup mayonnaise
juice of one lemon
2 tablespoons sweet pickle relish
1/4 cup of cheddar cheese, finely shredded
1/4 cup of Monterey jack cheese, finely shredded
3 tablespoons pimentos, diced (you can buy them in a jar or roast red bell peppers yourself)
1/4 teaspoon cayenne
1/4 teaspoon salt
1/4 teaspoon ground pepper
paprika to sprinkle on top
12 slices of bread and butter pickles for garnish (Can be bought at the store but many people around here grow cucumbers in the garden and pickle them. My mom always gives me a homemade jar.)
3/4 cup of pulled pork- about 1 tbsp for topping each deviled egg (optional)
How To Make Pimento Cheese Deviled Eggs Topped With Pulled Pork
Fill a large pan part way with water.  Add your eggs slowly and carefully so as not to crack them.  Make sure the water covers the eggs and then place on the stove over medium high heat until they come to a boil.  Turn off and allow to sit covered for 12 minutes.  Your eggs should now be hard boiled.
Pour off the hot water and fill the pan with cool ice water and peel the eggs right away running under cool water if they are hot.
Slice the eggs in half, lengthwise.  Pop all the yolks out into a bowl and add mayo and lemon juice.  Stir until smooth.  Now add in the sweet relish, diced pimento, and shredded cheese.  Stir until smooth.
Add the salt, pepper and cayenne and then taste to see if it suits you or if you need a bit more of any of them.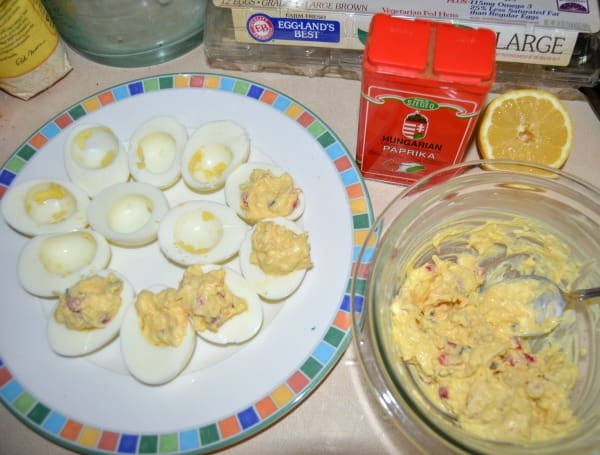 Spoon the deviled filling back into the egg halves.  Now you garnish with the bread and butter pickle and sprinkle with paprika.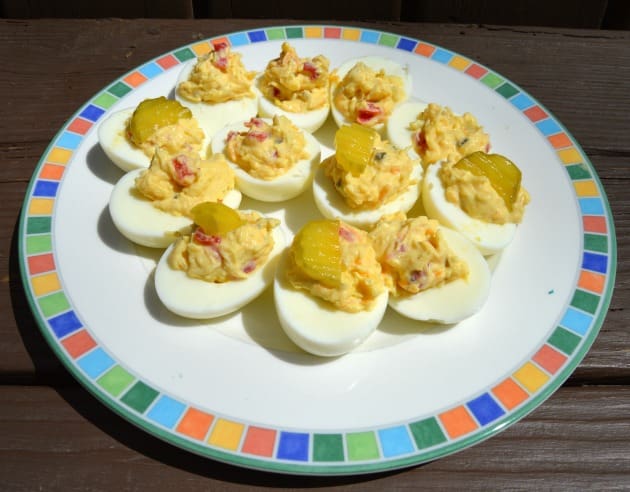 You could be done there or you could go ahead and add some pulled pork on top.  Delish!  Then serve them up with some fried okra or some biscuits or some cornbread!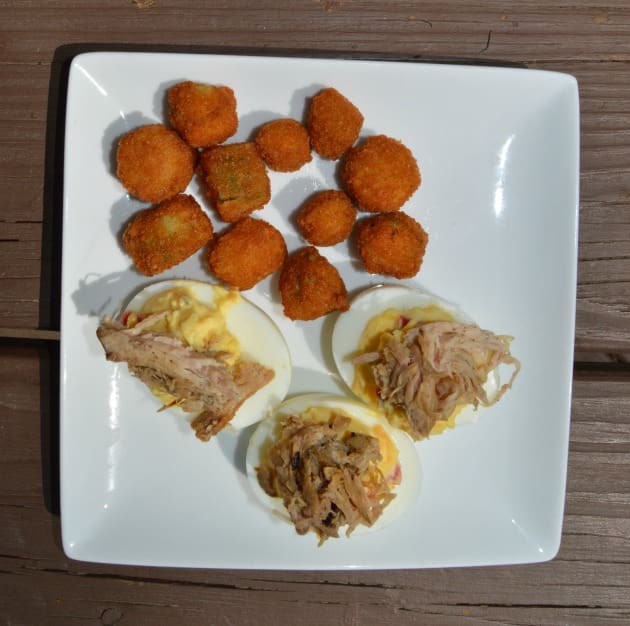 Do you think you will try this Pimento Cheese Deviled Eggs Recipe?  Will you top them with pulled pork? Are you going to enter Eggland's Best America's Best Recipe Contest?  What are you thinking of making with eggs to wow the judges?
$25 VISA Gift card Giveaway
To help you get inspired to get some locally sourced ingredients, one lucky reader will win one $25 Visa gift card and 1 coupon, valid for a free carton of EB eggs.
Giveaway Dates:  April 5- April 17, 2016
How to Enter: Enter through Giveaway Tools- just sign into the widget and click the entries you want to complete (comment, follow, or share).
Giveaway Announcement:
Winner announced above in the Giveaway Tools widget on April 12, 2016. Winner will be selected through Giveaway Tools and I will notify by email. Winner must respond within 4 days or the prize will be forfeited and alternate winner will be chosen. Your email will not be shown and will be kept private.