I love this homemade apple cake recipe from the owner of Studmuffin Desserts, Chef Seth Raphaeli. This apple cake made from scratch is moist, easy, and delightful! It is a grand-mère pomme gâteau also known as his grandmother's apple cake!  Don't let the fancy French words scare you.  I saw Chef Seth Raphaeli whip this up in minutes on Home & Family which airs weekdays at 10 am ET/PT on Hallmark Channel.  I was given permission to share the recipe with my readers.
Recipe For Homemade Apple Cake Made From Scratch: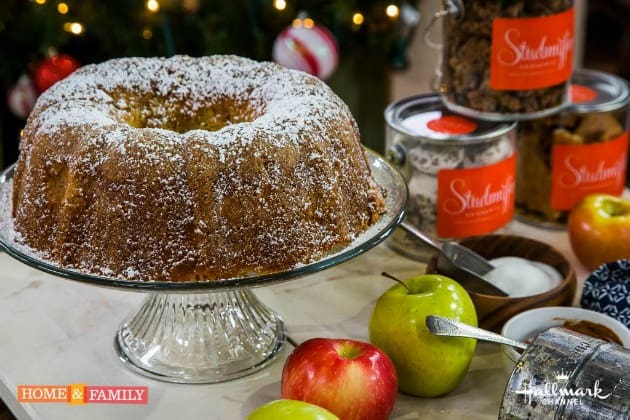 H&F Photo Credit: Copyright 2015 Crown Media Family Networks/Photographer: Jeremy Lee
You are going to love this recipe for apple cake made from scratch from Chef Seth Raphaeli!  It is one of his most famous desserts from his bakery.
Homemade Apple Cake Ingredients-
4 Large Apples / about 6 cups, sliced (mix of McIntosh and Granny Smith apples)
2 teaspoons cinnamon
5 tablespoons sugar
3 cups all-purpose unbleached flour
3 heaping teaspoons baking powder
2 cups white granulated sugar
1 cup Grape-seed Oil
4 Jumbo eggs
1/2 cup of orange juice (fresh squeezed is best)
3 teaspoons vanilla extract
How To Make Apple Cake From Scratch:
1. Preheat the oven to 350 degrees Fahrenheit.
2. Grease with butter or non-stick cooking spray and then follow with a bit of flour a bundt pan.
3. In a large bowl, mix the sliced
apples
with the cinnamon and 5 tablespoons sugar.  Set aside and let stand.
4.  Sift together the flour and baking powder in a large bowl and set aside.
5.  In the bowl of a mixer, beat the eggs with sugar until pale light in color and then add in the oil.
6. To the wet mixture, alternately add the dry ingredients in with the orange juice starting with and ending with the dry ingredients.
7.  Add the vanilla extract and continue to mix well.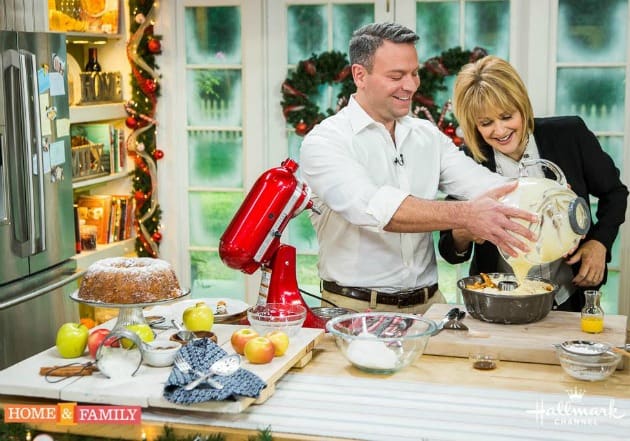 8.  Layer the
cake
and
apple
slices by pouring
cake
batter into the pan and alternating with
apple
slices.  Top layer should be
cake
batter.
9.  Bake at 350 degrees for 1 to 1 3/4 hours until golden brown.
10.  Test the homemade apple cake bundt with a toothpick or
cake
tester to make sure it's done.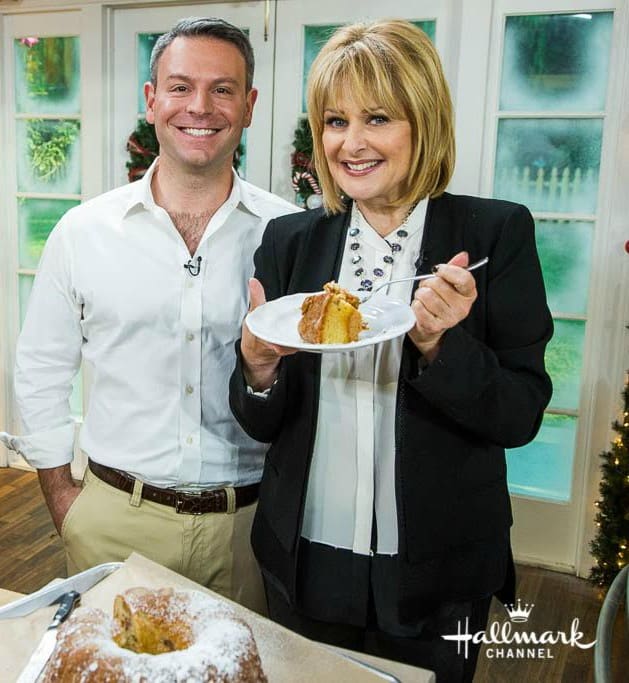 Want to see the Studmuffin chef himself?  Watch the episode
here
.
This homemade apple cake bundt is making my mouth water just thinking about it.  Would you serve it as dessert or breakfast?