Recently, Home & Family featured a segment with Chef Chris Oh sharing his amazing Korean barbecue recipe.  You may be familiar with Chef Chris Oh as a judge and chef on the new Bravo show "Recipe for Deception".  Chris Oh is also founder of Seoul Sausage Co, Co-founder of Hanjip Korean BBQ Restaurant, managing partner of Escala, the co-owner of Nomad Kitchen, the winner of multiple TV competition shows!  Chef Chris Oh is known for his delicious Korean barbecue recipe and he shared his Korean barbecue marinade on the Home & Family Show, which airs weekdays at 10 am ET/PT on Hallmark Channel.  I was given permission to share it with you here.
Chef Chris Oh's Korean Barbecue Recipe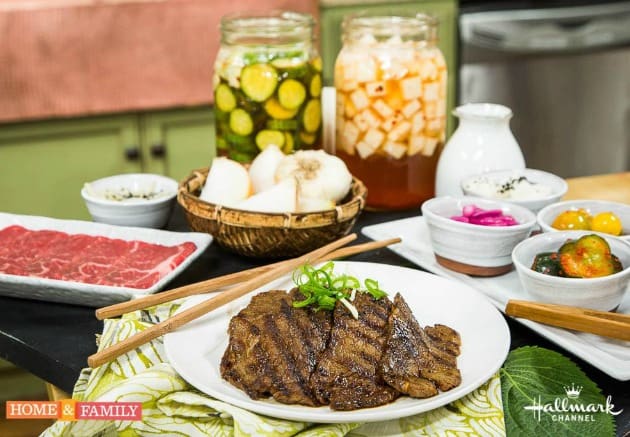 H&F Photo Credit: Copyright 2016 Crown Media Family Networks/Photographer: Jeremy Lee
The key to great Korean Barbecue is the Korean barbecue marinade and the cooking technique.  This Chef Chris Oh recipe serves 4-6.  This Korean barbecue recipe can use used to make Korean BBQ beef, Korean BBQ pork, Korean barbecue shrimp, you name it.  This fabulous Korean barbecue marinade can be used on almost anything!
Korean Barbecue Marinade Ingredients:
2 cups soy sauce
1/2 cup sesame oil
2 cups white sugar
3 cups Water
1/2 Tb garlic powder
1/2 Tb onion powder
1/2 T pepper powder
To Prepare This Korean Barbecue Recipe, you will also need:
2 lbs of meat of your choice -chicken, pork, or beef.  Here Chef Chris Oh uses Rib Eye Steaks, thinly sliced (about 1/8″ thick pieces).
serve with rice and optional traditional Korean side dishes called banchan (pickled veggies)
garnish with sliced green onions and white or back sesame seeds
Korean Barbecue Recipe Directions
1) Whisk the Korean barbecue marinade ingredients together until fully mixed.
2) Place in a glass pyrex or large ziplock and add the thinly sliced beef (or other meat).
3) Marinate in the fridge for at least 1 hour.
4) Remove and discard marinade.
5) Pat dry and sear quickly on each side on a very hot grill pan, cast iron pan, or bbq grill.
6) Serve the Korean Barbecue beef over rice with pickled veggies, garnish with sliced green onions and sesame seeds.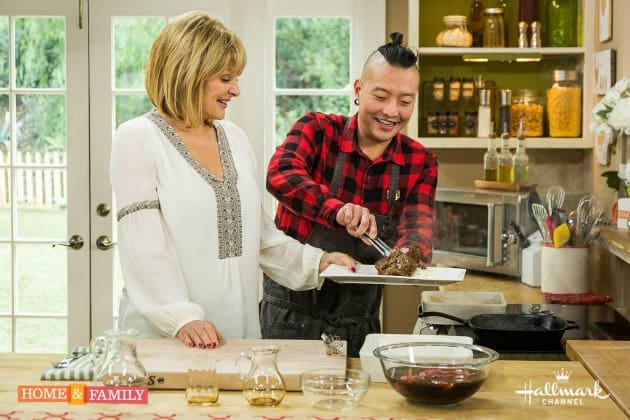 I just love this Korean barbecue recipe because it tastes so good and it is so easy to make! Do you think you will try this Korean barbecue recipe? What will you use the Korean barbecue marinade for- chicken, tofu, beef?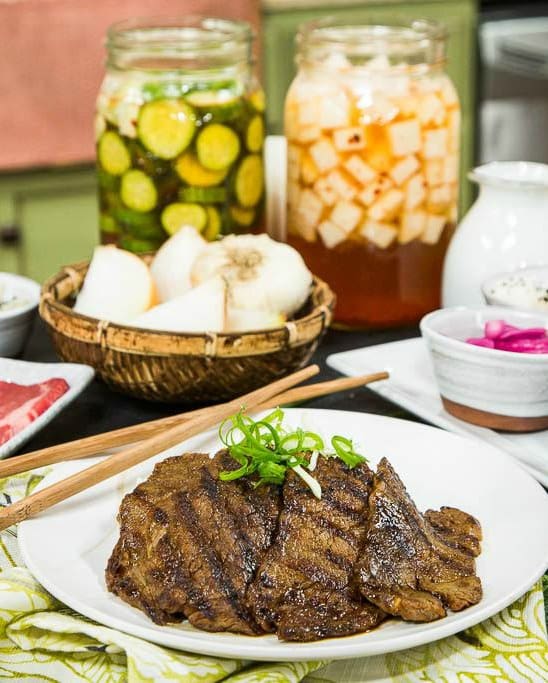 You can also see Chef Chris Oh make his Korean barbecue recipe in this video: