Ribbons are one of the best materials that you can use to make decorations or for working on craft projects. Ribbons are a very resourceful material and are an inexpensive alternative to other materials such as silk.
Ribbons are used in a variety of ways for different occasions and purposes. There are a multitude of uses for ribbons than what people realise and with Easter now fast approaching, this article will provide you with some fantastic ideas for ways in which to use ribbons.
Types of Ribbons
There are two main types of ribbon – woven and non-woven. Woven ribbon is the more flexible type of ribbon out of the two and is used for home decorations, crafts etc. for this purpose. There are many types of ribbon to choose from:
Chiffon, organdy and organza are different varieties of very light weight and are a part of the open weave variety which is usually known as "sheers."
Curling ribbons are coated or crimped to give the ribbon a rough edge scissors effect.
Grosgrain Ribbons are a long lasting and durable type of ribbon whilst still being a supple woven type of ribbon. The crosswise ribs provide a grosgrain and crisp in appearance.
Iridescent ribbons – the iridescent ribbons have a pearl-like finish due to the changing colours which depends on the lighting and angle of which the ribbon is at.
Jacquard the Jacquard type of ribbon is more commonly referred to as the 'ribbons with embroidery on them' and is used to produce pictorial effects. The Jacquard ribbons have both the "right" and "wrong" sides to them and is easy to know which side to use.
Depending on what you intend on decorating or making etc. this will perhaps determine the ribbon type in which you will require. The less flexible non-woven types of ribbon are not recommended for decorating cakes, pictures etc.
Ideas for Using Ribbons at Easter
Below are a few ideas for using ribbons at Easter:
Picture Frames
Pinterest Image of Fun Easter Frame
Ribbons can be used to brighten up bland picture frames by gluing two ribbons on either side of the frame in order to cover it completely. Ribbons with bunny rabbits or eggs would be perfect for that Easter look.
Easter Bunny Tree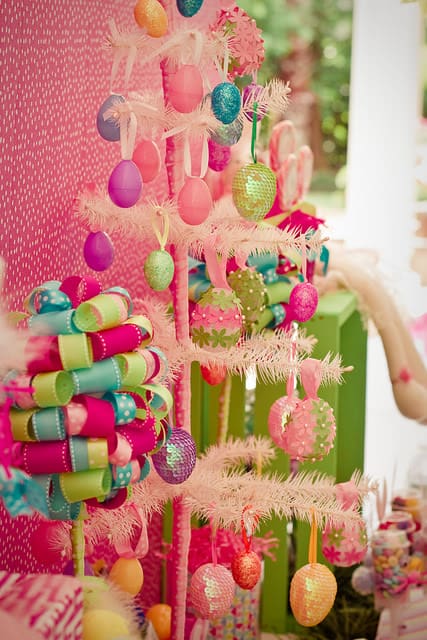 Using ribbons, miniature Easter eggs and string, you can create a small Easter Bunny Tree by decorating a small plant (one that is dying/dead – take the leaves off of the plant). Tie the ribbon around the branches and use the miniature eggs by hanging them from the branches. You also may want to make a small base for the tree or just leave in a plant pot and decorate the plant pot with ribbon. This is a great look and will last for a long time, perhaps even for a few years.
Easter Candles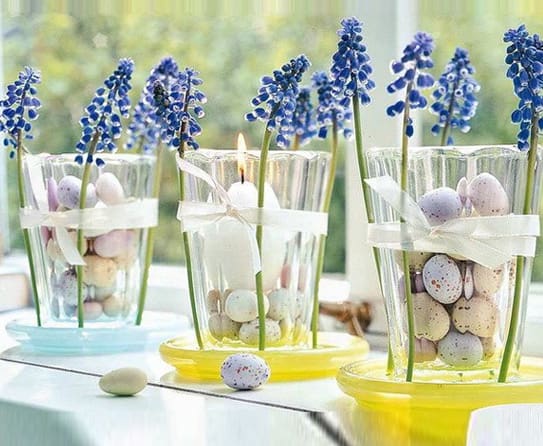 Create an Easter candle by using a candle holder that attaches to the bottom of the candle and gluing Ribbon around the candle holder. Use ribbon with rabbits or eggs on for the Easter look.
Easter Baskets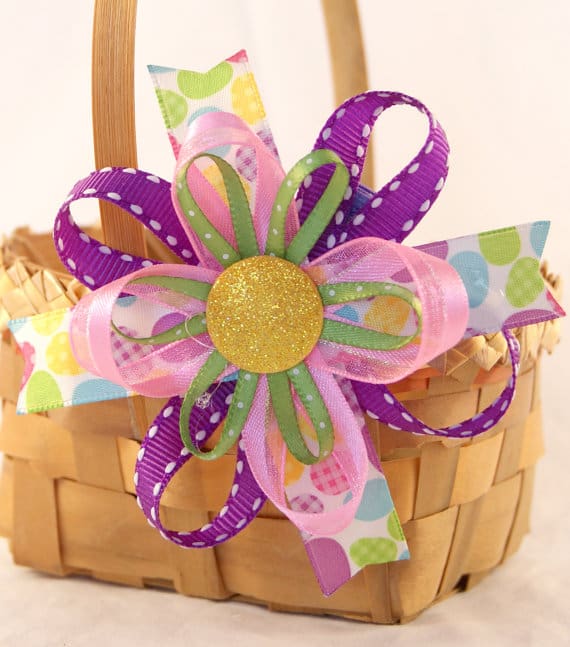 Decorate an Easter basket – once you have the basket looking as you want it with Easter eggs, straw/wool and so on, you can then decorate the basket and contents with colourful ribbon.
Enjoy Your Easter Ribbon Crafts
There are some great ideas for using ribbon at Easter and there are several types and colors to choose from. Either decorate items with ribbon or use the ribbon to make more crafts for Easter.
Guest post by Bradley who is an expert on ribbons and the most creative ways in which to use them having spent many years in the industry.