My hubby loves spicy stuff so he came up with a roasted poblano chicken sandwich that is just delicious. We were actually discussing ideas for a sandwich recipe and he came up with poblano chicken and I came up with a Canadian Bacon Gouda recipe so we each made our sandwich and had a little competition. Turns out we liked both recipes and couldn't pick a favorite. This roasted poblano chicken sandwich recipe is really great because you get a little kick from the poblano but not too much heat to handle, the grilled chicken and the cheese and sauce all come together for a very tasty combination.
Roasted Poblano Chicken Sandwich Recipe With Provolone Cheese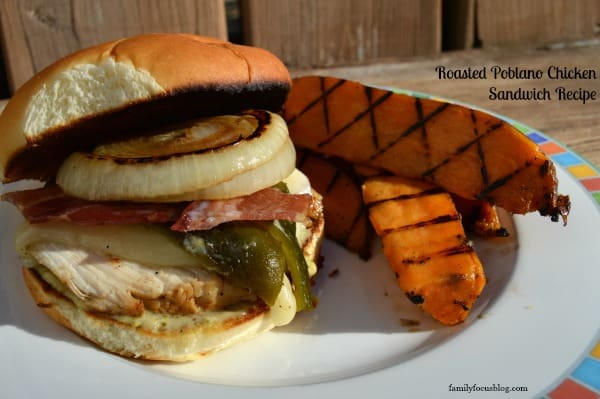 serves 4
Ingredients:
4 Sandwich Buns (We used King's Hawaiian for added element of sweetness to contrast the spice but you could use a whole wheat bun too.)
2 chicken breast
Montreal chicken seasoning or Zatarain's creole seasoning or Tony Chachere's
5 poblano peppers
maple bacon
1 large onion
olive oil
provolone cheese (or pepper jack)
roasted poblano sauce (2 tbsp mayo, 2 tbsp sour cream, 2 tsp lime juice, roasted poblano pepper)
How To Make A Roasted Poblano Chicken Sandwich:
First go ahead and roast those poblano peppers. You could do this on a grill or in the oven on broil turning when the skin gets black. When the skin is blackened a bit, pull the roasted poblano pepper out and place in a bag for 3 minutes to let them sweet so that the skin will separate easier. Then peel the skin off the poblano peppers and remove the stem and seeds. You will use one pepper on each sandwich and the fifth pepper will be blended into the sauce.
To make the roasted poblano sauce, blend all ingredients together and place in the refrigerator until ready to use.
Cook maple bacon till nice and crispy.
Sprinkle the seasoning to cover both sides of the breast and grill or cook in a skillet with a bit of olive oil until browned on both sides and cooked through. Slice on a bias.
Slice onion and caramelize the onion slices in a pan with a bit of olive oil.
Assemble sandwich by toasting buns, laying out the chicken, followed by a slice of cheese, 1 roasted poblano pepper, caramelized onion ring, maple bacon, and top off with some roasted poblano sauce. We served with sweet potato fries.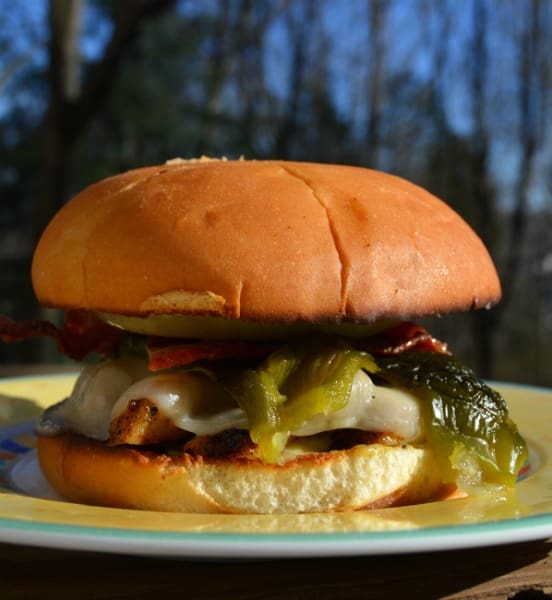 Do you think you will try this roasted poblano chicken sandwich? I hope you enjoy it as much as we do!