Need some ideas for how to make your home festive for Christmas?  Santa will soon be on his way so get into the spirit of Christmas and prepare your house and yard for the festive season with these top ten tips for Christmas Decorations.
10 Ways To Make Your Home Festive For Christmas
1) Makes sure Santa stops at your house with some festive lights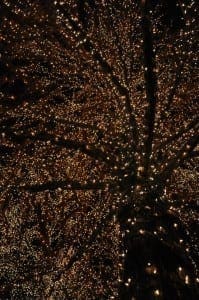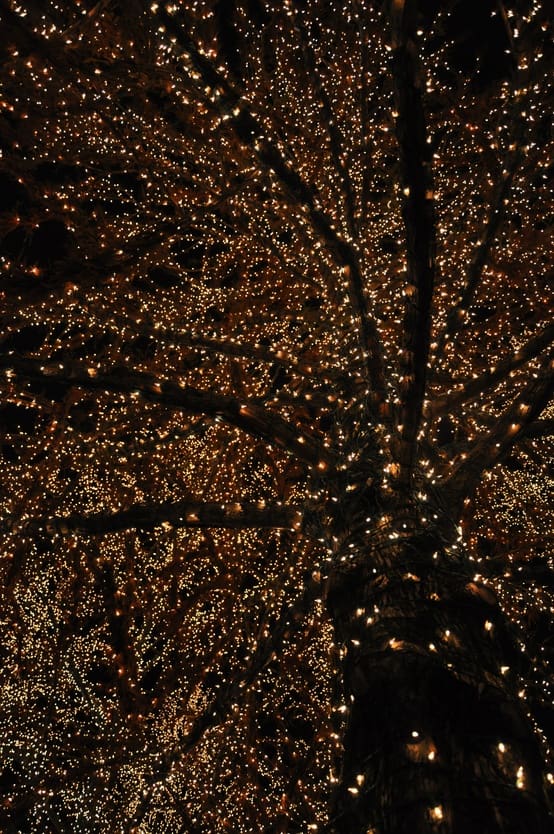 Starting outside, decorate your front garden and the face of your home with Christmas lights.  You can be as conservative or as wacky as you like, whether you choose to go for a small run of plain lights above your front door, or for Santa and Rudolph in flashing colourful lights on top of your roof.  You can also use them to decorate inside with this fun DIY holiday night light.
2) Get creative with Christmas Cards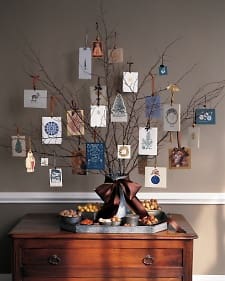 Photo credit:  marthastewart.com/
Everybody loves to send a best wishes card at Christmas. Rather than setting them in a pile on the side or storing them in a drawer, use them to decorate your house by hanging your Christmas greeting cards on a garland to add some festive cheer to your walls.
3) Getting the table ready
An easy way to make your table festive is by setting the scene with a Christmas centrepiece.  If you like the traditional look you can wrap some holly and berries around a church candle, or for a modern twist place a selection of baubles in a decorative bowl in the middle of the table. You might want to try this DIY winter candle decor as a simple but cute centerpiece.
4) The smell of Christmas
Create a festive aroma in your home with the smell of cinnamon, orange and pine cones. You can use anything from potpourri, scented candles, air freshener, fragrance sticks, or a combination of them to achieve this. Just don't go too overboard!
5) Hang your stockings by the fire
The sight of stockings hanging from the fire is a sign that Christmas is coming. For a unique way to decorate your home, why not make your own stockings with the pattern of your choice and stitch each other's initials onto the front; so there is no arguing over who gets the fullest stocking!
6) Christmas is coming…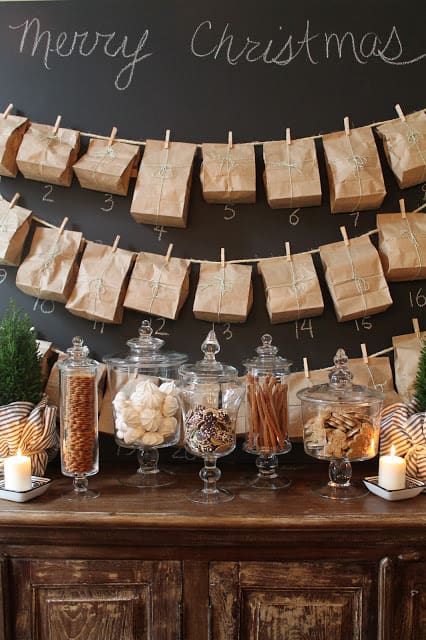 Photo Credit:  Lovely Things
For an alternative and fun way to count down the days until Christmas Day, swap your average chocolate advent calendar with a life size one. Create your own bags or boxes with numbers on them and get creative with surprises inside for the children.  Or if you aren't much for DIY projects, you will love the Play Mobile Santa's Workshop Advent Calendar which creates a cute Christmas scene that gets larger each day.
7) Don't leave one room out
Don't just decide to get one of your rooms ready for the festive period, share the Christmas spirit by decorating each room in your home. You don't have to go all out in each room with a full nativity scene, instead you can place a festive candle or nutcracker in the room to keep the Christmas ambiance flowing throughout the home.
8) Decorate the stairs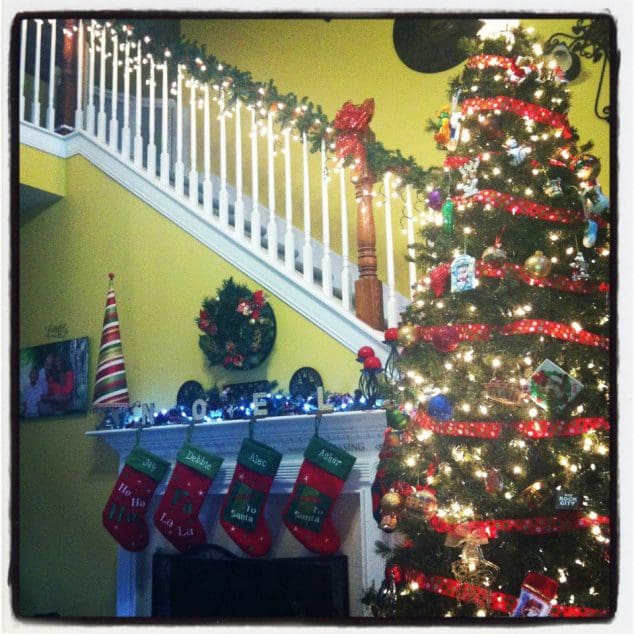 Photo credit:  DebbieDoesCreations.com
Garlands or ribbons up your staircase make for an eye-catching decoration in the hallway.  You can either use natural pine and berries or go for an artificial option. Why not put a modern twist on this favorite by making your own paper or popcorn garlands to hang.
9) Choose your color scheme
Planning your Christmas decorations is the best way to make sure that your color scheme is consistent around the home. Set your mind on a theme and stick to it.
10) Saving the best till last
Christmas wouldn't be Christmas without a Christmas tree. Whether you chose to go au natural or for a funky white, silver or black artificial tree, a Christmas Tree is the one thing you absolutely must have to make your home feel festive!
Which ones of these suggestions will you use to make your home festive for Christmas? What family traditions do you have when it comes to decorating for Christmas?