This healthy candied pecans recipe uses coconut oil (healthy alternative to butter) and stevia (a 100% natural, zero calorie sweetener) to get a great Buttery-Cinnamon flavor on the Pecans.  You and your kids will love this tasty snack! Pecans are high in protein and a good dietary fiber source.   Another reason you will love snacking on pecans is that they are full of antioxidants that make pecans a heart healthy snack to lower cholesterol.  Thanks to Debbie Johnson, Author of Fun With Gluten-Free, Low Glycemic Food Cookbook for sharing this delicious candied pecans recipe.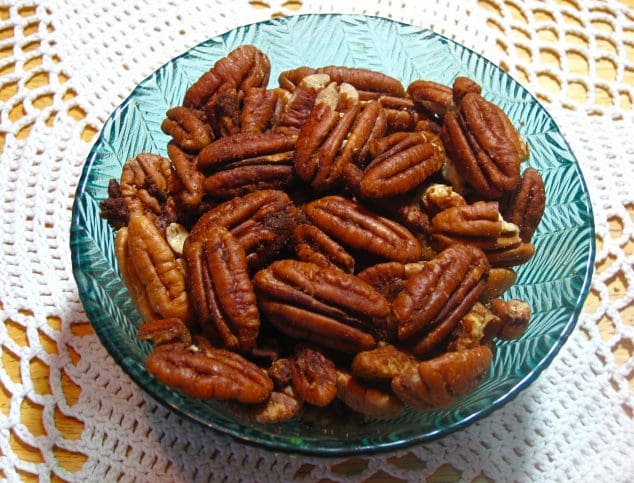 Easy, Healthy Candied Pecans Recipe:
Serves: Well, that depends on your snack attack, but likely at least four.
Healthy Candied Pecans Ingredients:
½ pound pecans
1 Tablespoon Coconut Oil (great for Vegans) or ghee (clarified butter)
1/8 teaspoon Celtic or Himalayan Salt, or more to taste
¼ teaspoon Sweet Leaf Stevia, or more to taste
1 Tablespoon Cinnamon
¼ teaspoon vanilla extract
Candied Pecans Recipe Directions:
*1*. Heat oven to 350 degrees. Lay pecans out on a cookie sheets and roast pecans for 10 to 15 minutes, depending on size.
*2*. Melt Ghee or Coconut Oil in saucepan large enough to hold pecans after they are roasted.
*3.* Blend in salt, stevia, cinnamon, and vanilla to the coconut oil.
*4.* Toss hot, roasted pecans in pot with melted sauce and stir to coat.
*5*. Then lay them out of parchment paper to dry so they don't stick together. Let the candied pecans cool and serve slightly warm or cold.
Enjoy this high protein, vegan snack as is or add the healthy candied pecans to salads.
Do you think you will try this easy candied pecans recipe? What are your favorite ways to eat candied pecans? I love candied pecans by themselves, over vanilla ice cream, or in trail mix! Do you like the healthy substitutions in this candied pecans recipe?