How much easier would life be if we had snacks for kids right at our fingertips? For many parents that would be a big time saver. Between working and taking care of responsibilities at home, adding dinner to the mix can make for a hectic day. Here are some tips and recipes to make easy snacks for kids.
Ideas and Tips For Easy Snacks For Kids
So in what ways can we prepare fast and healthy snacks that won't take more than 15 minutes out of our day? I can think of a few that have saved the day for me. Some of the staples I keep on hand are fruit, plain yogurt, dark chocolate, oatmeal, coconut, and potatoes. These foods can easily be whipped up into a delicious snack or even a side dish in no time.
Most often, kids are looking for what taste good and not what's nutritious for them. That even goes for adults because it can be really hard to give up the bad food we crave. Sometimes those craving are telling us we have a deficiency of some sort. For instance, if we have a craving for chocolate, instead of grabbing a candy bar, eat foods that are high in magnesium, like a piece of dark chocolate, oatmeal, or almonds. Chocolate cravings can be a sign of magnesium deficiency.
If it's pastries, pasta or white bread that keeps your child smiling from ear to ear, try giving them a sweet potato, grapes, cinnamon or an apple instead. Craving pasta could be a sign of chromium deficiency. Pastries are not so forgiving to the waistline and not to mention bread and pasta can be an irritant for some kids who are allergic/sensitive to gluten or wheat. You could even try making coconut bread as a white/wheat bread substitute.
Humans are prone to sweet foods naturally. Breast milk is even sweet, so from birth we've been programmed to prefer a sweet taste. I think it's great to reward our kids every now and again with a food they like so they don't think they're trapped in a health dungeon. Try making something fast and fun that soothes their taste buds.
2 Easy Snacks For Kids
Yogurt Topped with Cocoa Bits (Dark Chocolate) Snack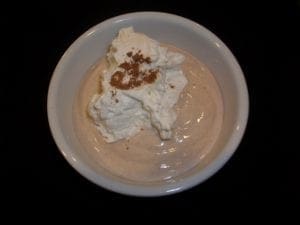 You can incorporate dark chocolate into a snack by scooping a cup of plain unsweetened yogurt into a cup. Add 1 teaspoon of unsweetened cocoa powder and stir until smooth consistency. Add a drop or two of stevia liquid (a sugar replacement), add ½ teaspoon vanilla (optional), and top with homemade whip-cream or a favorite fruit. Kids love this treat. You can make whip-cream simply by using 1 cup heavy whipping cream with some vanilla extract and using a mixer to blend until soft clouds form.
Apples and Almond Butter Snack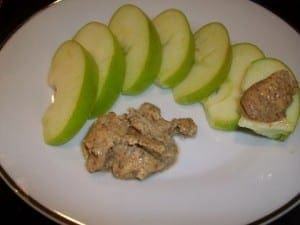 Apples and almond butter is so easy to make that some kids can do it themselves. Just take a green apple (which has less sugar than a red apple), slice it up and top it with almond butter. Almond butter is better than peanut butter in the sense that it does not mold like peanut butter does. Also almonds are full of heart-healthy fats, high in protein and fiber, calcium, potassium and magnesium…and the list goes on. Although almond butter may be expensive, it lasts in the refrigerator for a long time. And, if your child does not like the taste of almond butter, just try another nut butter that will give you similar nutritional benefits.
You may also want to try this recipe for cucumber sandwiches. What are your favorite easy snacks for kids?
Guest post by B. Davis- a loving parent and teacher who enjoys health topics, writing, and being a website owner dealing with yeast free recipes.
You can get even more easy snacks for kids at Green Convenience Foods and Healthy Snack Ideas.