Everyone needs to get away. But sometimes money can be issue. Not everyone can travel out of state or out of country just to get away. Sometimes the best remedy for work stress is just to stay at home while on vacation, and that is why so many families are enjoying the idea of a staycation. A staycation gives you all the benefits of relaxing on vacation while enjoying the comforts of home. Here are the top five ways to make your staycation fun for everyone in the family.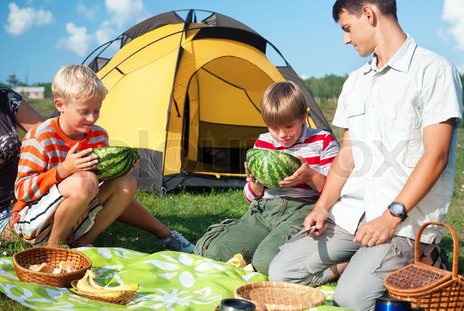 Picnic
Why stay home when you can get out and enjoy the great outdoors? If you want to make sure that you have a great time out there, why not think about bringing a picnic lunch? Take the time to cook food that is both delicious and safe to sit out in the sun, and head out for a fun day. If there are any national parks within driving distance, head there for some hiking. If you prefer to stay closer to home, think about just having lunch in a city park.
Go Swimming
Swimming is a fantastic time for the kids and a relaxing time for adults. Find a local public swim center, or check out this hot tub for some real relaxation. Swimming is great cheap or free activity the whole family can enjoy.
Wander
Take the kids and set out for an old-fashioned wander. Because we are so reliant on our cars these days, it becomes a lot easier to simply drive from place to place, and that means that we miss a lot. If you want to get to know your town and your region during your staycation, take some time to go exploring. Dress your kids up to go walking, and make sure that everyone brings along a snack and some water. Find a park, do a short hike, or walk to a friend's or neighbor's house.
Get Ideas from Your Kids
Remember that it is their vacation as well. Tell them that they can suggest things to do as well, but these things have to be done as a family. You may be surprised and impressed at what they come up with. Remember that no matter how odd their request sounds, you should give it a try. You never know what might become a family tradition.
Slumber Party
Even if you can't get away to go camping, it doesn't mean that you can't have a great time when you are out on your staycation. Drag some bedding to the living room and try having a slumber party that's family members only. Young children will be delighted by the change in sleeping environment, and you can bet that everyone is going to have fun picking out movies. If the weather permits, try out a backyard camp out. This can be fun for both the kids and the parents without the cost of travel.
Whatever you decide to do on your staycation, get creative! Adapt these top five staycation ideas to make the best staycation for you and your family this year.  Do you have any fun staycation ideas or stories to share?
Guest post by Dixie Somers who writes on behalf of bullfrogspas.com