We all know that kids love a play house and a teepee tent for kids is a super cute choice. In addition to the fact that your kids will love it, there are lots of benefits and uses of kids teepee tents. Here, I will highlight a few uses for a teepee tent for kids and why I think that you, as a parent, will love teepee tents just as much as your kids! This post is brought to you by La Vie Vert.
A Teepee Tent For Kids Has So Many Uses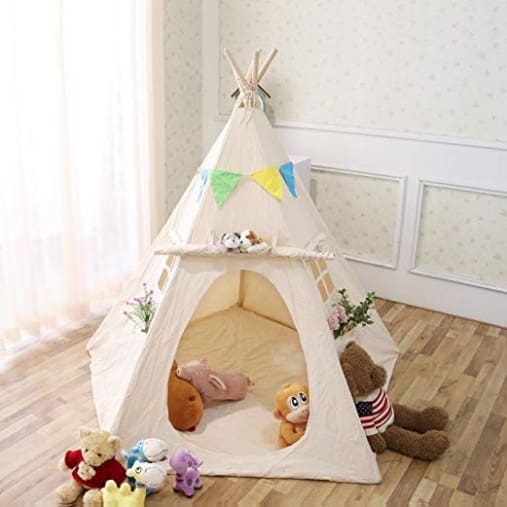 Did you have a special play house as a child? Whether it was a fort or a tree house or a teepee tent, I bet you loved it. Whether you could name all the things you loved about it or what purposes it served for you, I bet it just brings back positive memories. There actually many ways a teepee tent for kids can be used and it offers both parent and child many benefits.
1. Reading Nook
A kids teepee tent makes an excellent reading nook. It makes it extra fun to get a stack of books and go explore them in their own special space. It can offer an extra layer of fun for kids that love to read or that you are trying to encourage to read.
3. Pretend Play
A kids play house in general offers great opportunity for pretend play and encouraging kids to use their imagination. Kids love to pretend they have their own house and imagine being self-sufficient. In addition, a teepee tent for kids gives them a whole new setting for their pretend play. They can pretend to be be in the Wilderness and practice their survival skills. Kids can pretend to build their shelter or play like they are in the Wild West.
3. Role Play And Social Skills
A teepee tent for kids can inspire role play which helps encourage kids to become more independent and confident in themselves. Kids can role play setting up their play house, hunting and gathering, and preparing meals. By themselves, these activities may fall more under pretend play with with a siblings or friends, they will get to role play and practice their social skills. Kids will learn to share, to set boundaries, to follow rules, to negotiate, and to stand up for themselves.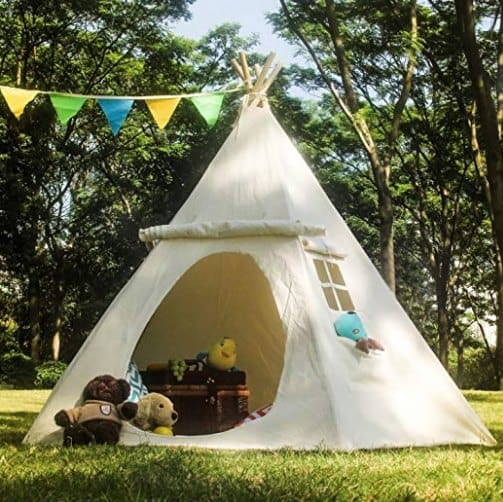 4. Outdoors Play
The teepee tent for kids can be set up indoors or outdoors but when weather allows it is a useful way to move play outdoors. A kids teepee tent can motivate a child to go outdoors to play and at the same time it can provide shade from the sun or shelter from wind. It can make outdoor play time more appealing to the child and more comfortable for the child. Outdoor play tends to encourage more active physical play at the same time. Kids can play tag and have the teepee be a base where they rest in between their outdoor games.
5. Privacy And Unstructured Play
Yet another use for a kid's play house is to offer them a space that they feel is their own little retreat from the world. A teepee tent for kids can serve as their own escape- a feel to feel, safe, adventurous, and in control. Whether they use their kids teepee tent to organize their stuffed animals in their own way or to hold secret office meetings with their friends, it is great for kids to have a special place that they feel is just for them. The teepee tent for kids provides a base for their unstructured play.
About The Lavievert Children Playhouse Huge Indian Canvas Teepee
Affiliate Link For Your Convenience:
This awesome teepee tent for kids has two windows and comes with it's own carrying bag.
Lavievert's Children Playhouse Huge Indian Canvas Teepee is constructed with 100% sturdy cotton canvas and has 5 premium fumigated pine poles that will stand up to longterm use.
The five-sided design of this teepee tent for kids makes a spacious area for kids to be able to play together. The windows provide natural light. Two slip pockets underneath window can store kid's story books, snacks, or other small toys. The door and window flaps can be closed for privacy or to keep out bugs.
You can order at the amazon link above and like the Facebook Page for promotions on products.
Kids Teepee Tent Giveaway:
Giveaway Details:
One lucky reader will receive one Lavievert Children Playhouse Huge Indian Canvas Teepee. (ARV $72.99)
Giveaway Dates: July 5- August 2, 2018
How To Enter: Just sign into the Gleam widget and click the entries you want to complete.
Giveaway Terms:
Open to residents of the USA, 18+. Email entered into the widget will be kept private. Winners announced above in the Gleam widget on August 3, 2018. Winner will be selected randomly. I will notify by email and winner must respond within 4 days or the prize will be forfeited and alternate winner will be chosen.
Do you think your child would enjoy a teepee tent for kids? Did you know there were so many benefits to having a kid's teepee tent?